I am starting 2020 with a new project and a challenge for myself: Financial DataViz!
It's not a New Year resolution; it's something I wanted to do for a long time: takeover a specific topic or industry and work to fathom it out.
The way I want to do is by finding specific topics, visualizations, datasets within the finance industry, and using Tableau to understand them.
Each week I'll create a new visualization in Tableau, and I'll show you how to create it. From gathering the data, setting it up in Tableau, to creating charts and dashboards.
Why Finance?
What I see in my work and in that of others is lots of tables.
Using a tool like Tableau to create crosstabs is like giving up. I am not a fan of surrendering, and that is the main reason why I am starting this weekly project.
I hope that the stuff I will bring to your attention will help some of you see the value of visualizing financial data.
And also, I'm a huge fan of financial charts and dashboards! They are so sexy and packed with information. They are meaningful, beautiful, and, most important, useful!
In the end, I want to have a collection of financial visualizations as a go-to resource for myself and anyone interested.
I hope you'll find them valuable! It is a work of love, and I have faith it will transpire beyond the limits of your screen.
Before we start
There are a lot of resources out there! Here you will read about my perspective on things. Please don't agree with it, as I love a good debate!
Feedback is of extreme importance to me. If you have any thoughts, please share them loud! Constructive criticism can only lead to progress.
If you want to viz along with me, you are more than welcome to do it. The only way to learn is by doing!
So let's get started!
First up, stocks!
In this section, I will reproduce some of my favorite stock and trading chart types. I will try to explain why they work well and expose some of their weaknesses.
Of course, you can use them beyond financial data once you understand what works well about them.
Week 1: S&P 500 stock market overview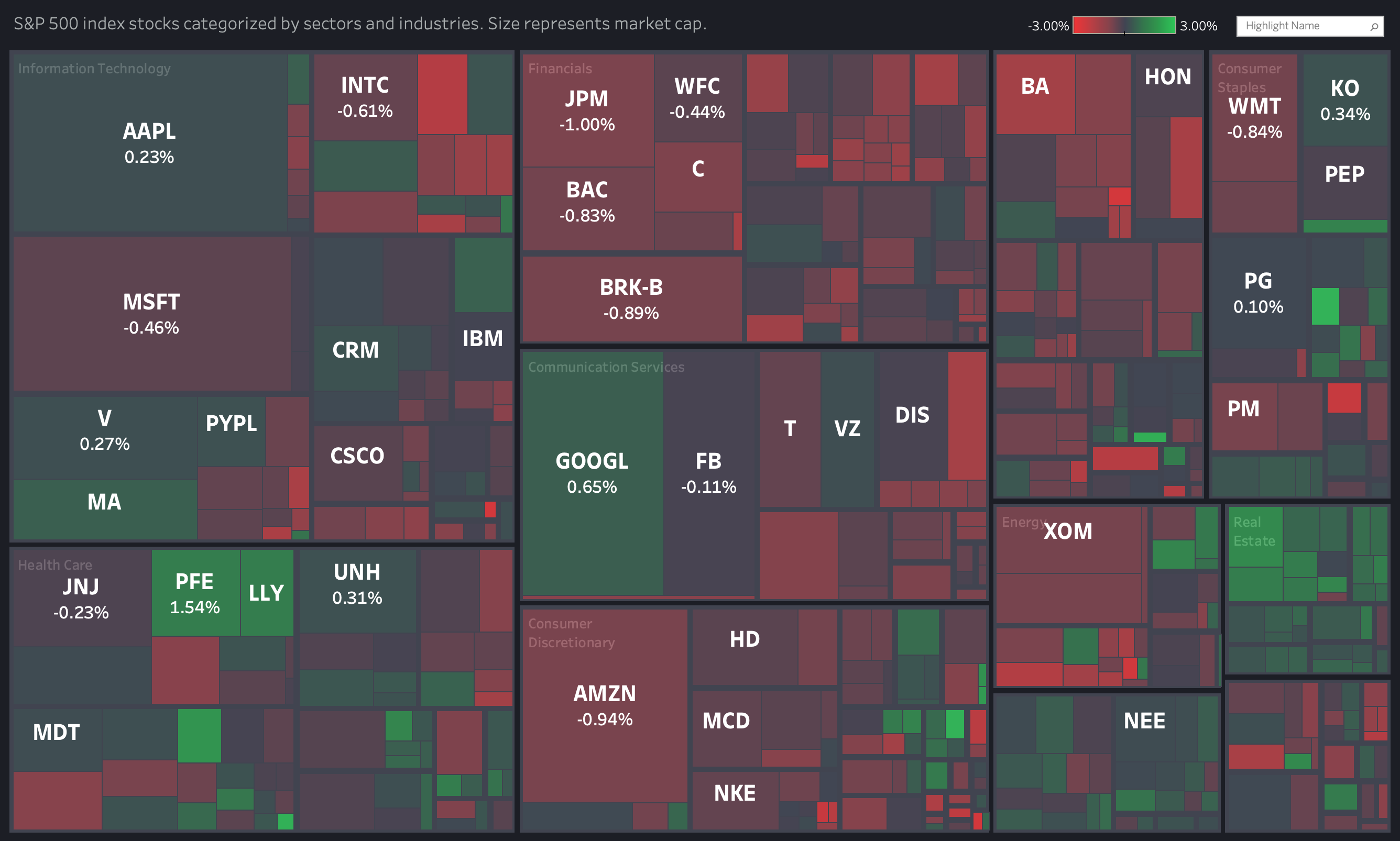 (click on the image to interact with the visualization on Tableau Public ⇡)
What I love about this dashboard
it offers at a glance performance overview of the whole market
displaying complex hierarchies is an excellent use case for treemaps; I dug up some old articles on how treemaps should be used, and I feel that this article from Jeff Shaffer sums it up nicely
it adds additional context in tooltips (showing up when we hold our mouse over a specific stock)
Weaknesses
the red-green color palette which seems widely accepted in the financial data world is making this dashboard unusable for colorblind people (I recommend using red-blue if you care about this)
it's difficult to make accurate comparisons based on color and irregular box sizes (I'm okay with it as long as the purpose of the dashboard is to show the market overview)
The Data
Collected from Yahoo! Finance using Python. There is no need for API keys or paid subscriptions.
You can find the code in this Github folder (the main script is in the getSandP.py file).
If you have difficulties in getting the data, reach out to me, and I'll try to help!
How to create this dashboard in Tableau
Update Shortly after publishing the visualization, it was featured as Viz of the Day on Tableau Public.
I am taking this acknowledgment as an obligation to do more and better work!
So let's move on to the next challenge!
Week 2: Historical evolution of the stock market
This week we are looking at how the stock market has evolved since 1928.
Now, why would we do that?
First of all, for fun! Also, those who don't know their history are doomed to repeat it.
So I set some time aside to try and understand some facts.
Below is the dashboard I ended up with: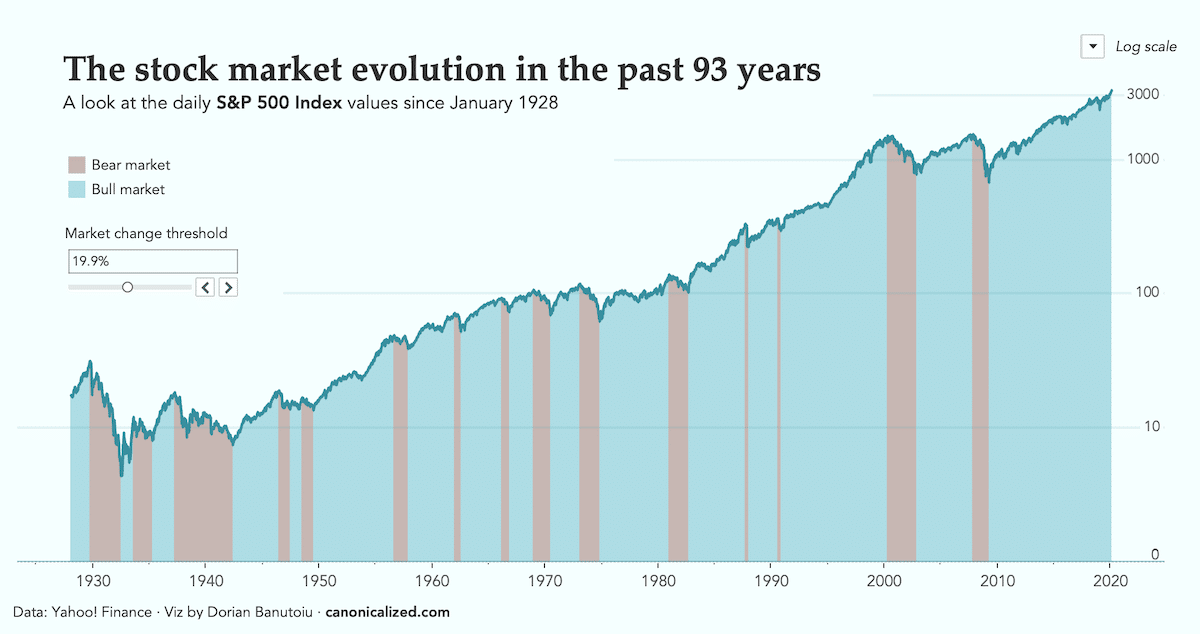 (click on the image to interact with the visualization on Tableau Public ⇡)
The chart shows the daily values of the S&P 500 Index since 1928 with different colors for Bear and Bull markets.
My inspiration for this chart comes from an article I read in The Economist a while back. It's pretty much a reproduction of that in Tableau.
I am in love with The Economist graphics. They are informative, their look is super clean, and they complement the written article perfectly!
My only problem is that most of them are static. My friends often surprise me with a ruler or cardboard pieces trying to make sense of the charts.
I know, I'm weird!
For this chart, I added two interactive elements I felt the need for.
The first is a threshold controller for when a market is considered Bull or Bear.
The article mentions a brief Bear market in 1990 that some argue it didn't reach the technical threshold of 20%. The market dropped by 19.9% from the previous high, which technically isn't Bear.
Using a parameter, we can now move that threshold to see what would happen at 20%, 19.9%, 19%, and so on.
I also wanted is a switcher between logarithmic and classic linear axes.
Many people don't get log scales. But from what I am seeing, they seem to be widely accepted in the trading world.
I would guess that the reason behind it is their usefulness for comparing rates of change over time.
For example, the distances between $10 – $20 and $20 – $40 are the same on a log scale. Both scenarios represent 100% growth. Hence their slopes are equal as you can see below: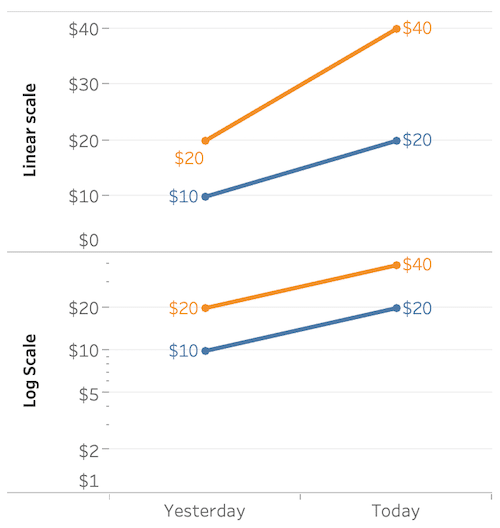 A linear scale would give us a better indication of the magnitude of evolution.
Let's take January 23, 2020, as an example. The S&P 500 index surged past 3300 for the first time in history!
Not very easy to notice in the log-scaled chart.
Using a linear scale would give us a better feeling of how the market has exploded in the past decade:
With the linear scale, we can't see how the market was changing in the early days. Offering our audience an easy way to switch back and forth would fix both problems.
This is also something Viz Animations (the new to be released feature of Tableau) would help with understanding. Sliding from one state to another gives us a better feeling of what is going on.
The Data
The data comes from Yahoo! Finance, which you can find at this address.
How to video tutorial
It might seem easy to develop at first sight, but it was not a walk in the park.
I did everything in Tableau to practice more with Table Calculations, and to show what the software can really do.
I believe that these techniques will be useful in other cases as well. It's a great way to look at dense time-series data!
Hopefully, this video will save you some time if you're trying to do something similar!
Catch you next week!
Highly passionate about data, analysis, visualization, and everything that helps people make informed decisions.
I love what I do! I am working to improve speed in every aspect of my life and that of our clients.
I find comfort in helping people, so if you have a question, give me a shout!