Tableau Consulting and Accurate Help
We believe in the visual analytics future of the business world. If you landed here, you are probably somewhere along the same path.
To assist you in your journey, we are offering Tableau help and consulting for free within the limits of our availability.
Full disclosure: it won't be free forever for everyone. In the long term, we plan to keep it open for charities, non-profits and other social/do good projects.
Why do you need Tableau consulting?
Accepting assistance is not a weakness! We genuinely believe that a good leader knows when to ask for help. We've probably all learned that at some point we could use some support.
Speed is so important in self-service analytics! Let me iterate on that: speed is the game!
If you have the chance to find a great Tableau consultant, one that gets you and your pain points, you might be able to accelerate your progress in a way you didn't believe it was possible.
So how can we help?
A creative approach to problem-solving: passionate Tableau help, clear communication, doing things the right way.
Simple as that!
What do we get out of it?
We wish it could be a 100% selfless/no-expectations offer from our part.
The truth is that it's not! We would inevitably feed the beast that is our appetite for working with data and Tableau!
There's no way around it; we will get the chance to learn and improve by helping you. Which means more experience for us.
Should you look for more experienced people? We sure would!
We have been working with Tableau Desktop & Server 7 days a week since February 2018.
Sometimes to improve our dexterity, other times to find creative ways of looking at data, and most times to communicate visually with our clients.
It might seem that we're not super-experienced in the Tableau business world, which is mostly right. However, we're making significant progress every week.
One relevant way you can literally see our growth is by looking at Dorian's Tableau Public profile (our leading Tableau developer).
It is updated every week with at least one Tableau visualization. If you read it from the bottom up, you can hopefully see what we see: a weekly improvement.
Also, our 8+ years of professional web analytics experience gives us a cutting edge. Mostly because we understand the importance of correctness and quality of data.
We believe that when you're passionate about something, the work becomes a lot easier. For us, it doesn't even feel like work!
Passion for working with data is what drives us. Hard work, dedication, and creativity are what you will get from us.
What we can actually do: Tableau Professional Services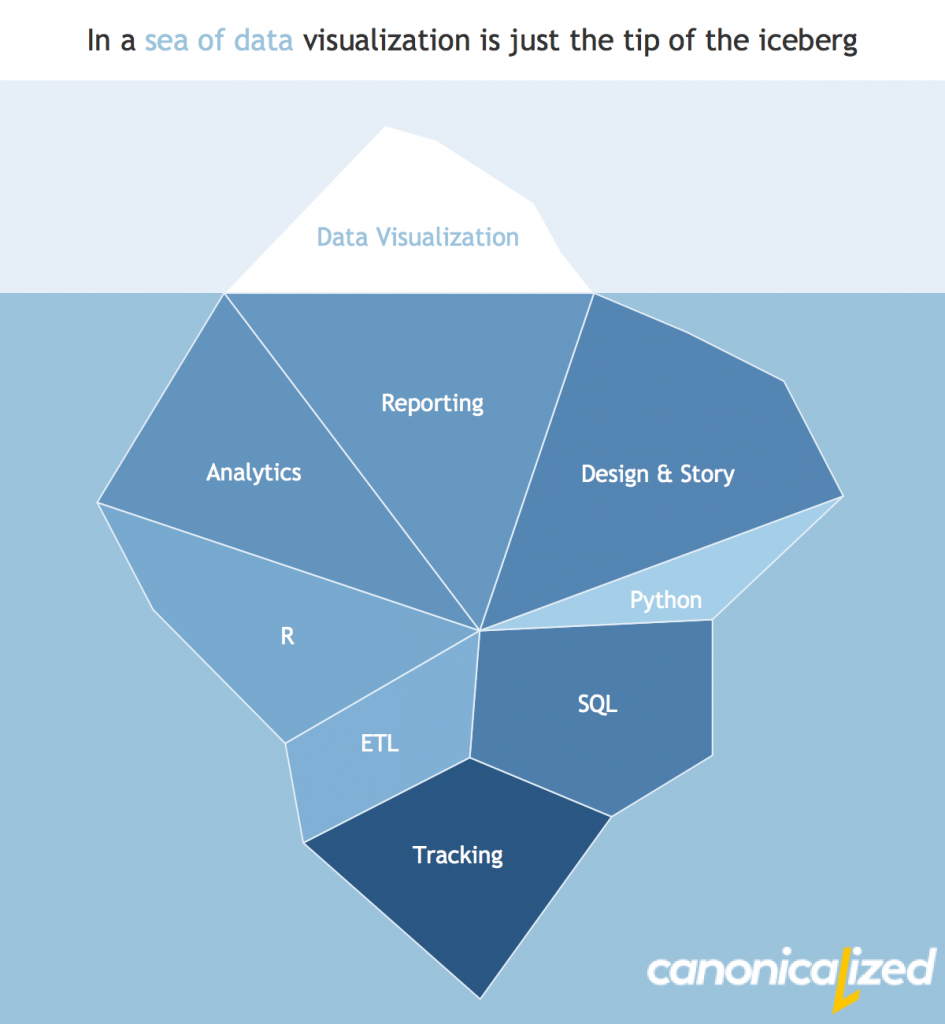 (*we created this image with Tableau; clicking on it will take you to the Tableau Public version)
Business Analytics vs. Business Intelligence
We are doing a bit of both.
We're using a wide spectrum of data sources: ranging from the big data ones like Exasol or Vertica to classic databases like MySQL or Postgres, and less conventional ones like Google Analytics and web data connectors.
By combining efficiency (BI) with creativity (BA), we're trying to help businesses answer pressing questions and formulate new ones.
Dashboard Design & Implementation
For us, a Tableau Dashboard is just the tip of the iceberg. The rule of spending 80% of the time on working with the data and 20% on the visualization itself definitely applies to our case.
Not only that, but the Pareto principle is also relevant for the number of sheets we create versus how many we keep in the final version of the dashboard.
The speed of trying different approaches in Tableau is fantastic! It would be a shame if we didn't use it.
We usually start by building a lot of different charts (sometimes hundreds), and we keep only the ones we feel that are relevant to the story.
You can find a few examples of data visualizations we've built at the end of this page. And some more interactive dashboards on our official Tableau Public profile.
Tableau Performance Optimization
We actually have a case study on Tableau performance tuning, which you should read if you have ~15 minutes available.
The main idea is that we don't focus solely on how fast we can make a dashboard, but also on quick it can answer your questions.
Also, working with large amounts of data is tricky! However, we are here to break through those walls.
Complementary experience with R and Python
Technologies like R and Python allow us to work with the data at the closest level.
To name of few things for which we've used statistical models built with R alongside Tableau to double-down on analytics:
Markov attribution models: smarter-than-average marketing channel attribution for e-commerce stores
Forecasting using algorithms that are a bit more advanced (ex.: Facebook's Prophet) than the basic ones (like the one used by Tableau)
Bayesian calculations: we developed these to slice and dice A/B test results right inside Tableau
CausalImpact checks: we are working with this algorithm to assess whether growths or dips are a result of something we did or just random noise in data
Business Intelligence workflows: scheduling reports using Python alongside tabcmd (the command line interface to Tableau Server)
Break down of SEO data
We've been in the SEO business for a long time!
It makes sense for us to use the power of Tableau to reveal insights by digging into log analysis, Google Search Console data, content engagement & analytics, and so on.
Our Style
We're very straightforward: we don't wear suits, we like beer, we focus on the work. You can read more about our way of thinking in the Growth Helping article.
Bottom line: we are here to help you grow!
Some of our "finished products"
Tableau data visualization examples from our day to day work and some of our creative stuff.
Tableau certified?
Is it a must for you to contract Tableau consulting services only from certified professionals? We are qualified!
Should you care about it? Probably not!
It's just an acknowledgment from Tableau that we know our stuff.