It's a bit tricky to find reliable and actionable SEO advice for WooCommerce right now.
So, we decided to lay out all of our best knowledge for you!
Everything you will read in this article has been tested under sweat and tears.
We feel it will help anyone who is looking to improve their Search Engine Optimization.
Starting off on the right foot
Hosting
It should be clean, with a genuine history, but also well-configured.
People think that any shared hosting will work for a Woocommerce site. We see it almost every day.
In some cases, it might work, but you really need the stars to align!
If you are serious about your e-commerce ambitions, and if you have more than a handful of visitors a day on a website with 100+ products listed, you should start thinking about a VPS.
Clean URLs
First of all, you don't want your product URLs to look like yourshop.com/?product=some-product. Activate the WordPress friendly permalinks.
Now, you will notice that Woocommerce will add "/product-category/" and "/product/" as URL base.
Even though it's not the end of the world, some people (such as myself) prefer cleaner URLs.
The easiest way to get rid of "/product-category/" is to use a free plugin like "Remove taxonomy base slug".
It's a different story with the product URL root. Time and time again we have encountered issues with it.
Each website, WooCommerce version, plugins setup, etc. is having a problem with it. Our go-to solution is to change the base from "/product/" to "/p/".
Just keep in mind, that your might encounter some speed issues. The WooCommerce gang warns us about it.
Mobile friendliness
Is your site mobile-friendly? Great!
So are most of your competitors'.
Passing the mobile-friendly test is not enough. You have to consider the user experience factors.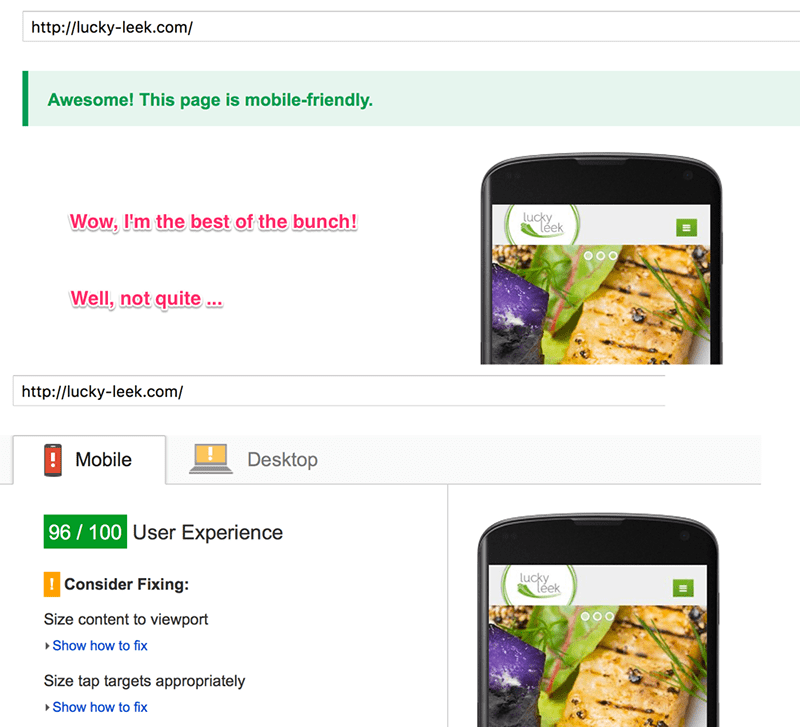 You might think that it's not a big issue. You have to keep in mind the user here.
SEO is so much about engagement these days, you wouldn't believe it!
You unquestionably want your mobile visitors to have a smooth experience. It will have an even greater impact shortly.
Mobile-first indexing
Google has announced it's going to use a mobile-first index.
We now have to use mobile as the primary view to look at for SEO purposes.
Huge, isn't it?
But, it could be difficult for people to optimize stuff on their phones. At Canonicalized we are using the Blisk browser for this job. It's based on Chrome, so you'll have most of your extensions available.
It's easier to spot issues when having both the mobile view and the desktop view of the site.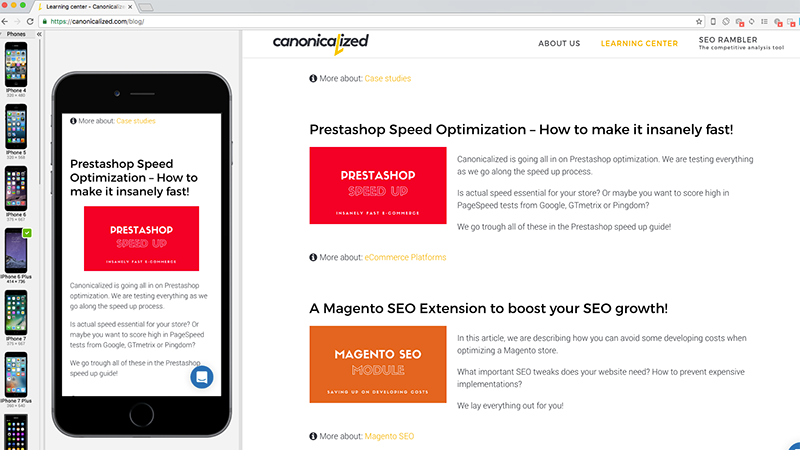 Accelerated Mobile Pages (AMP)
AMP is becoming quite the hype word these days. The Google project has the declared purpose of making the mobile web faster.
The speed up plan is simple: restricting the usage of HTML tags (such as objects, etc.), blocking external stylesheets, limiting the amount of CSS and JS.
Check out what is allowed and the full list of available tags here.
How does Woocommerce get along with AMP? They're not best friends, but not worst enemies either.
Right off the bat, the checkout page is pretty much out of the question, since it uses a lot of Ajax and JS code in general.
You can use AMP for product and category pages. But, you will have to lower your expectations regarding design features.
AMP looks nice and clean!
But, for a lot of people, the website look and feel is important, and they want more that what AMP has to offer.
There is a plugin on Codecanyon that implements AMP for Woocommerce. Have a look at the preview to get an idea.
Also, Yoast offers an AMP glue plugin to change the colors around and to make use of the module's metadata.
We have implemented AMP on Canonicalized, too. You can check it out by adding "/amp" at the end of any article URL.
If you want to read more about Accelerated Mobile Pages, we recommend the AMP SEO & Analytics article. We try to do deeper in real-life situations, hoping that you will learn a thing or two from our experience.
Hidden content days are long gone. Some might argue that it's not true.
We think it's is not a conversation worth having.
Then why are we bringing this up?
Because Googlebot will encounter errors if you are blocking access to JS or CSS files.
And these are worth mentioning.
Nowadays Google is smart enough to process all the Javascript and CSS code on a page to figure out the exact version of the website a regular visitor sees.
More than that, Google is refusing to tag as high quality any content located in secondary tabs, closed boxes, scroll boxes, etc.
From our tests, we see a lot of circumstances where content from secondary tabs or the bottom of scroll boxes is not even indexed.
If it's not laid off for any visitor to see without further action (like a click or a scroll), you are better off without it.
We took a look at the best sold Woocommerce themes on ThemeForest. There is not one that doesn't use tabs on the product page.
Clearly, there is a difference in thought between Google and most Woocommerce theme designers.
Using Yoast SEO
Why this plugin in particular? Not because "it's the best" or "it gets you the most rankings", but because it's the cleanest and most stable one.
Metas
Using auto-generated meta tags for titles and meta descriptions could be useful if you forget to set up individual ones for each product and taxonomy.
Yoast offers an excellent range of variables you can work with to obtain unique and helpful meta tags.

Noindex, follow
You should be careful with this option. Before adding the "noindex" option to the robots meta tag, you should check in Google Search Console if the URL(s) you are about to block are getting traffic from Google.
Why "noindex, follow"?
"follow" tells search engines to crawl the URL and "noindex" not to show the page in search results.
Whoa, whoa, hold on! Why wouldn't I want more pages indexed in Google? Wouldn't that mean more traffic?
In today's SEO world, simply not. In a lot of cases, it means less traffic.
You want to keep only quality pages indexed in search engines, pages that satisfy a user's search intent.
Real-life situation
Let's take category pagination for an electronics shop as an example.
Assuming you have a couple of hundred TVs you want to sell, Woocommerce will create category URLs like yoursite.com/tv, yoursite.com/tv/page/2, yoursite.com/tv/page/3, etc.
Do the subsequent pages satisfy different search intents? No.
De-index that shit!
The user should get the first page and will go from there. Landing on the third page of your category would be quite weird.
But you want Googlebot to reach and index every product from the group. Hence the "follow".
With this directive, the crawler will know how to get to every item.
Keep in mind to avoid having both rel="canonical" and robots="noindex" present on the same page.

This is sending mixed signals to Google, and you might end up with both the current URL and with the canonical one de-indexed.
Deactivate or block certain listings
Listings such as tags, date archives, author listings, etc. were designed in the early days for blogs that produce content frequently. They help users quickly go through the content.
Whether Woocommerce has a blog attached or not, you should figure out which listings make sense for you.
In most cases, it's a good idea to get rid of them. Or, at least, add a noindex tag.
Breadcrumbs
Breadcrumbs are the bread and butter of SEO. They help search engines figure out the website's structure, and the user to navigate efficiently through product listings.
There are two main things to keep in mind:
formatting breadcrumbs with Schema.org or with another vocabulary will show up nicely in search results snippets

Yoast is offering Schema.org breadcrumbs, there nothing more you should do besides activating and including them in your theme
[imagine Schema.org vs. not formatted]

try to limit the depth of the breadcrumbs to at most three levels (excluding the homepage and the current page)

two levels is ideal in most cases
the best way to limit the depth of the breadcrumbs is by defining the category tree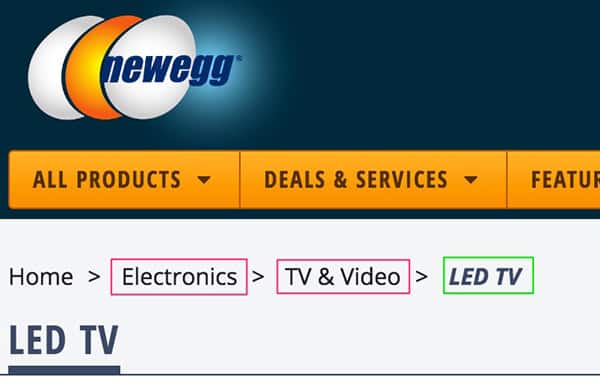 Other Yoast settings
forget about the sitemap; you just don't need it for a small to a medium website; just deactivate the sitemap functionality to avoid any indexation issues
redirect the attachment URLs to the parent article to avoid any headaches with thin content pages

same for "?replytocom" ones

the OpenGraph tags are suitable if you care how your products will look when shared across social media
Realizing when you are going far
if you are asking how many more times you need to include the focus keyword in the body text because the Yoast traffic light is not green, you have gone too far
if you are stuffing keywords in every image ALT text, you have gone too far
if you are copy-pasting every description from one product to another and just changing tiny bits, you have gone too far
if you are adding twelve tags per product, you have gone too far
if you are spending time or worrying about the XML sitemap, when your store has less than a few hundred products, you have gone too far
if you are changing Products/Category names or URLs every two days, you have gone too far
There are probably a lot more ways to overdo it, but you get the picture.
It's clearly a mindset!
If you have the "SEO disease" you will have to work on your habits for the sake of your store.
Is Woocommerce SEO by Yoast plugin worth the extra 49$?
Probably not! It could be if you are determined to show the product price in Pinterest pins.
It's the main thing it offers at the moment.
Site structure
There are two ways to go about site structure: technical (helping bots crawl the site efficiently) and informational (classifying and organizing the inventory).
In today's SEO world, you can't have one without the other.
To keep it simple, here are a few things to have in mind:
information architecture

try to keep everything accessible within 3 – 4 clicks regardless of the page
try to interlink only closely related and relevant content
siloing (or theming) might be a good idea for sites with lots of products from different departments/categories

basically, it's a way of structuring the site into separate sections (silos), so that child pages are only linked from their respective parent pages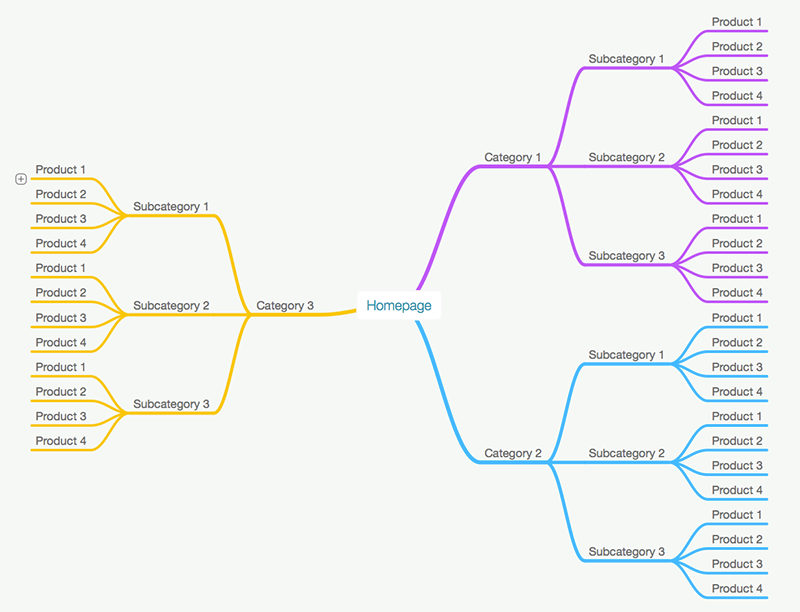 technical architecture

it's a lot about internal linking, pointing out duplicate content, denying access to bots for redundant areas of the site, etc.
try to flatten the site architecture using specific SEO tricks like HTML sitemaps and A-Z indexes (this way bots will get to the useful content faster)
mega menus aren't as useful as they might seem at first sight

even though the user can go to a lot of places within one click, it could considerably increase the number of links on the page

a workaround for this issue could be replacing regular HTML links with JS "links" (and before you ask, adding rel nofollow to the menu links is NOT the same thing)
you will have to apply the same tweak if you want to separate your site into silos
here is an example of a client that added a huge mega menu increasing the number of links per page to around 800 (we fixed the structure by using JS links)

As you might notice, it takes time for Google to process the changes. Expressly for smaller sites.
I don't think anyone would like to lose four weeks of good traffic.
Categories
They are by far the most important element in the website structure, so think twice before drawing them up.
A simple mind mapping software like Coggle or MindNode could prove itself very useful in extracting the ideas from your head and place them in a tree structure.

Add too many layers, and you'll end up with a very fragmented website. Add only broad categories, and people won't be able to find what they are looking for.
As a general rule of thumb, you should only create taxonomies that satisfy a search intent.
If you need listings that do not fit in this space, you should block them for search engines (using robots or canonical).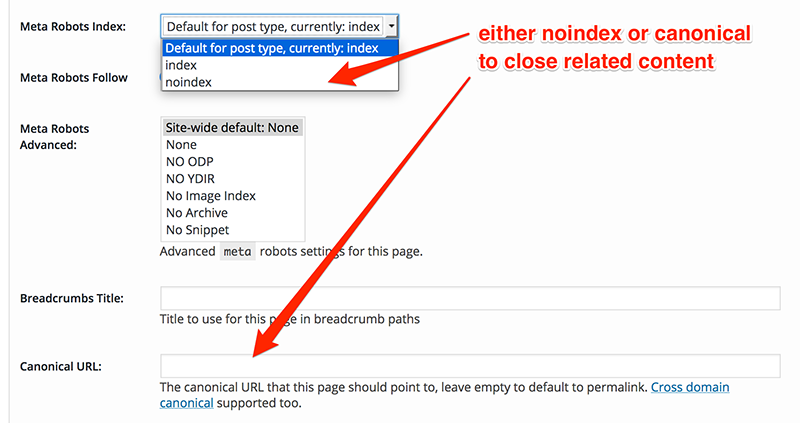 We want to mention an obstacle we are running into a lot lately. Don't create empty/thin categories just because you feel you will have content for them in the future!
Create the listing when you can populate it with products otherwise, try to focus on other stuff.
Layered navigation (filters)
The same as for mega menus, don't add too many filtering options!
We see a lot of sites that have a handful of items, to the point of only one product for each filter.
This is not only a mistake in structure, but it could lead to speed performance issues.
Technical considerations
The WooCommerce filter URLs are generated with parameters from the get go (yoursite.com/category?filter_brand=nike, yoursite.com/category?filter_color=brown, etc.).
You are better off not indexing these listings. Yoast usually adds rel canonical to the category, which is an elegant solution.
There is a widget that can get you SEO optimized URLs for filters. If you decide to use it, be very careful with it!
In most cases, you don't need to index filters such as color or fabric. You could end up with a lot of duplicate content issues because of it.
In our opinion, brand filters are the only ones you should consider indexing or not.
Brand listings (if applicable)
Not all products belong to a known brand. But if they do, why not list them all under one listing?
We know, it might not make too much sense to have underwear, backpacks, and shoes on the same page.
But, in most cases, you would get some love from search engines.
There is a fantastic plugin priced at only $29:
it has the A-Z dictionary useful for the flat architecture we talked about
you can add links from each product page to their respective brands
layered navigation filters are available on brand listings
Try to use images for every manufacturer! It makes them more prominent.
Two important aspects
Avoid using tags
We already talked about indexing tags in the Yoast settings section, so we're not repeating that.
Just remember that they could also mess up your structure by aggregating content from various areas of the site.
Out of stock products
Most people deal with out of stock products by deleting, setting as a draft or as private.
Please don't be one of them! It will result in 404 errors.
The best way to help your website is to leave the product accessible only by its URL (so hiding it from search and listings) and adding a rel canonical to a similar product or a related category.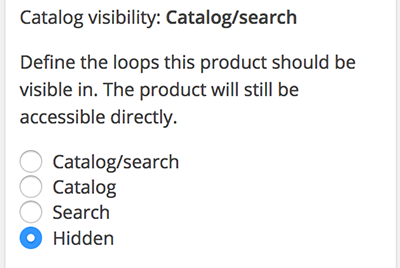 If you want to delete them no matter what, make sure you add 301 redirects! They will save your ass big time!
Content guidelines
First of all, try to answer questions with your content!
But how do I know what questions people have before I create the content? Using a tool like Answer the Public could bring some light onto this.
Also, if you have some Customer Service history, going through it will reveal some unexpected gems.
You won't believe how much useful information is there!
A great tip: try to answer questions where people need it the most, not on FAQ pages!
We know it's difficult to figure this out, but it's doable. With hard work and with the help of technology we have available this day in age, there is no limit to what we can accomplish.
Titles & Headings
Everybody is talking about catchy headlines today.
The days when you would place your keyword at the beginning of the page title to rank better are fading away.
Of course, you need keywords in the title. But right now the focus is on how to make the headline stand out and how to get people to click on it.
SEO's will tell you that higher CTR (click-through rate) from search results will get you better rankings.
It's not always true!
If the promise you make in the headline doesn't satisfy the user through the content of the page, he/she will go back into Google.
This will create the so-called "pogo-stick" behavior, and that will unquestionably hurt you.
So be very careful to deliver on your promise! High CTR without engagement is always a bad idea.
We truly like the CoSchedule Headline Analyzer.
We have found that headlines with scores greater than 65% perform a lot better than ones with lower scores.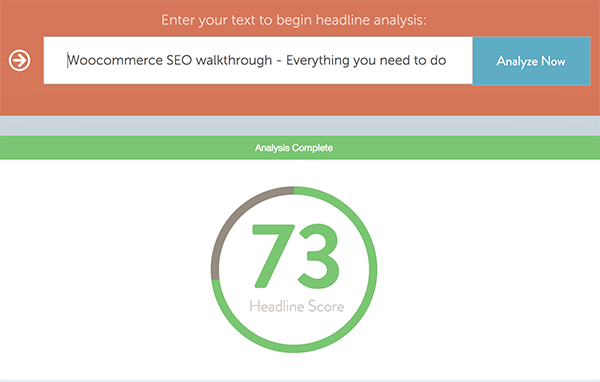 It's not an exact science, but if you manage to figure out what people tend to click and engage with, you will strike gold.
Product descriptions
There are two types of product descriptions: emotional and informative.
The emotional one is usually the short story; the one used higher on the page to captivate the emotional side of the visitor.
The educational one is where you talk strictly about the product's details and features.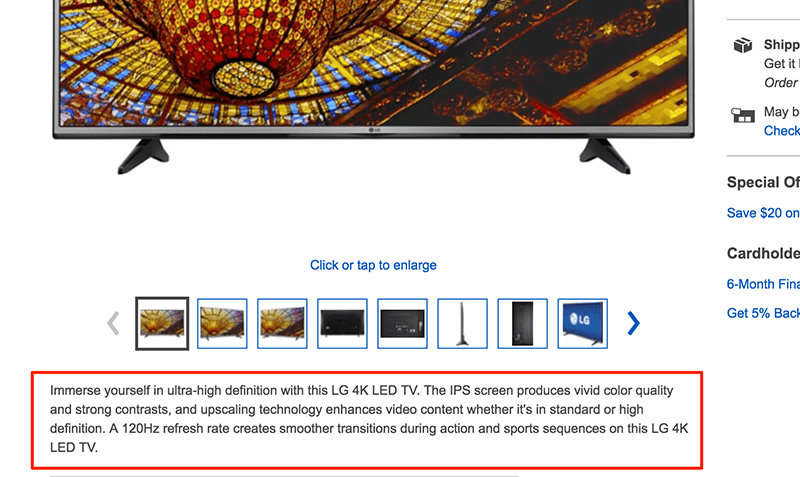 What we have found is that structured descriptions that use headings (h2, h3, etc.) and vivid images tend to keep the user more engaged with your content and will get better rankings because of it.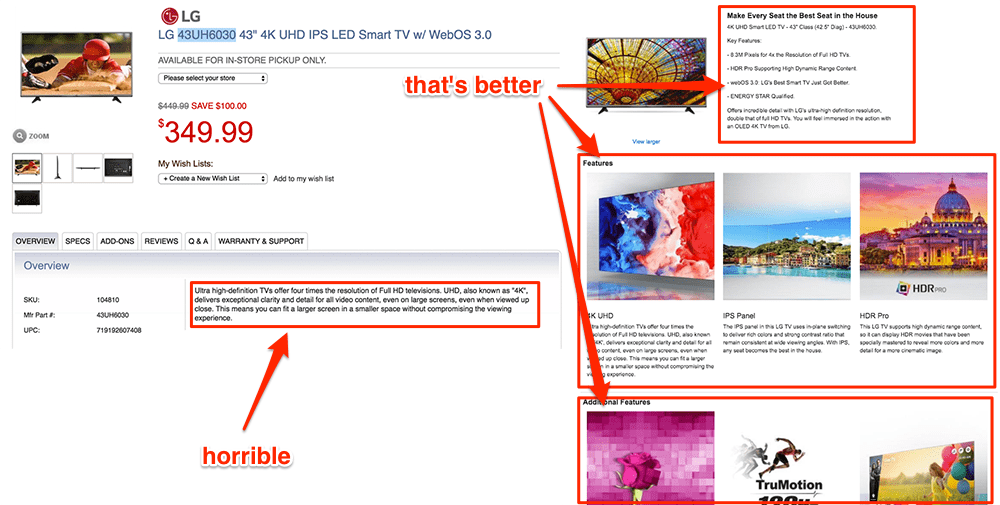 Also, internal or external links within the descriptions that provide value for the visitor are golden for SEO.
Category descriptions
Why are these useful?
Because SEO is a lot about semantics and diversity these days. Category descriptions are the perfect place to include related keywords.
We really like MonkeyLearn and the Onpage.org TF-IDF tool for related keyword ideas.
Both tools pull actual Google results and analyze the keywords they use.
Pretty much how we are pulling data in our SEO Rambler tool, but more on competition analysis in a forthcoming article.
Google says that before adding anything to your site, you should think if it's useful for the visitor.
So be careful not to go overboard with the content you put in the description. Go more into the educational side of things than into the emotional one.
The category page is not a selling page; the product page is where the sale happens. On the listing, you want to make sure that the user finds what he wants.
To avoid
Keep in mind not to put the category description before the product listing.
We see this quite often lately. I don't know why, but people seem to think if they have the block of text on top they will get more love from search engines.
Google doesn't like that at all. Most likely because your main content are the products and you are moving them down the page for whatever reason.
This is a "went too far" type of thing.
Duplicate content
There are two ways you should look for duplicate content.
Internal (within your website): very similar content among products or categories might cause SEO issues
Let's say you are listing the same pair of shoes in 7 different colors.
If you think you are going to kill it in Google by indexing all of them separately, you are sadly mistaken!
You could have a shot if you are creating very distinct product descriptions, but we rarely see people having the patience to do it.
the solution is to either list the color as product variants or to use a custom rel canonical pointing to the default color
you should pay attention to the above-the-fold content; that is the foremost spot you should use as much original content as possible
a great tool for revealing internal near-duplicate content is Siteliner (it has some free options)
External (on other sites): these can be sites that are stealing your content or sites that you have "borrowed" content from
a tool like Copyscape should show you in seconds where there is similar content on the web
after you figure out who are your "friends" that are benefiting from your hard work, you should do a DMCA request to have Google remove that content from search results
There are a lot of other tools out there for technical SEO auditing. It's on you to find the right one for your needs!
Product Reviews
Client opinions are pure gold. People read them whether they are on your site, or on a different platform.
A study from BrightLocal shows that 92% of consumers read online reviews. That is almost everyone!
But, we are here to dissect if they offer any SEO edge.
First of all, the reviews contribute to the overall content volume on the product page.
Not only as extra words but as complementary text.
You could attract some additional traffic from keywords present in your customers' comments.
Also, from queries such as [Product name] + "Reviews".
But, as discussed above, if the reviews are close in a secondary tab, they won't have any SEO effect. They have to be visible without requiring any action from the visitor.
Also, you could get rating stars in search results snippets. These can increase your organic click-through rate with more than 10 – 20%.
The reviews have to be marked up with Schema.org (or another vocabulary) for Google to process them accurately.

The main downside is that you can't use them on category pages. Google allows them only on product pages.
If you work up to courage to add rating stars on any listing or the homepage, you might end up without them altogether. And you will have to deal with a manual spam action in Search Console.

Speed up WooCommerce
The speed will always be an important part of SEO. Not only the time it takes the page to load but also the Google PageSpeed scores.
So here are the three most important things you can do right now!
Cache module
Using a caching module is a good idea for any online store. It speeds up the load time for every page, and it prevents server crashes when experiencing massive traffic spikes.
Luckily there are a bunch of modules tested with WordPress for a long time. Most of them are working with WooCommerce.
We have worked well with the following:
W3 Total Cache: it's a little complex to set up, but it has a lot of amazing features
HyperCache: a basic cache module and easy to set up
WP Rocket: this is a paid module (39$) but an excellent one, including extra options like cache pre-loading, lazy-loading images, etc.
JS & CSS minimization
You can do this with a cache module like W3 or WP Rocket, or you can use an extra plugin such as Better WordPress Minify or Autoptimize.
We have found that Autoptimize tends to break sometimes; BWP is pretty stable one.
WordPress and WooCommerce tend to use a lot of CSS and JS files. Grouping them and reducing their size will reduce the browser requests considerably.
Image optimization
You should constantly try to optimize images without losing quality. Most WordPress plugins lose quality when optimizing images.
The best way to losslessly compress images it to use a free tool like ImageOptim (Mac) or FileOptimizer (Windows). There are also distinguished paid services like Kraken.io.
If you are working a lot with JPG files, we recommend JPEGmini. It has spectacular patented compression algorithms!
So, no plugin for image optimization. Download all the images from the uploads and theme folder and optimize them with one of the above tools.
Again, a tedious job!
Just take a look at the results after you're done, and it will feel amazing. Not only that, but the store will keep its charming look and feel.
Nice to have
Schema.org
Most WooCommerce themes are integrating Schema.org support. Your central task, in this case, is to test if everything is working accurately.
Google offers a hand with the Structured Data Testing Tool.
Ratings & Reviews
Product reviews are a big part of Schema.org. We talked about their importance in the content section.
If you have the reviews, you should mark them up with Schema.org tags. This way, your product pages will show up with rating stars in the search results.
[imagine rating stars google]
Be careful not to aggregate scores on category pages! Google doesn't feel they are useful for the users and will hit your site with manual spam actions until you remove them.
LocalBusiness
Every business has an address. Almost everyone adds it to the website.
Why not mark it up with Schema.org?
It would help search engines figure out your location, and maybe to give some local SEO love.
The important thing to remember when marking up your address is to be more specific.
If for example, you are a Pet Shop don't do http://schema.org/Store, do http://schema.org/PetStore!
Here is a fantastic list to choose from Schema.org local business types.
Non-schema vocabularies
Schema.org is not all there is!
Open graph metadata: very useful for the way your pages look when shared across social media
Good relations: is a vocabulary strictly used for e-commerce sites

it allows sites to be very precise about what the product is, or about its features, who can repair it, etc.
ALT text for every image
Time-consuming, but surely worth the hassle. Increases the overall SEO score of the page where they are being used.
Also, you can tap into some image search traffic.
An image sitemap is helpful to get them indexed faster.
Issues might arise when using CDNs. Google might consider the pictures duplicate if you are serving them from different hosts.
You can use rel canonical to fix them (yes, you can place canonical tags in the image headers).
Product videos
Product videos offer similar benefits to using images. But videos can be a lot more rewarding.
You can tap into video search traffic by just using them on a product page. More if marked properly with Schema.org Video Object.
Take a look at the screenshot below to see how powerful well marked up videos can be!


Jumping from 14.000 daily clicks to over 20.000 in a matter of weeks. That's a 43% increase. With absolutely NO rating stars implemented.
Our opinion is that Video optimization is a virgin area of SEO. The potential is there; we just have to grab it!
Another fact: visitors will spend more time on a page if it has a video on it.
People just like looking at videos. And, as this eyeviewdigital.com study shows, they 80% are more likely to convert.
Same as for images, you can submit video sitemaps to Google to speed up the indexation process.
Blog
Ah, the good ol' blog. We encounter a lot of adversity when we recommend it.
People don't trust it; they underestimate its value, and they don't put in the effort needed for a quality job.
The most common mistake is that people are writing more of the same thing that is available on the web right now.
Joe Pulizzi talks a lot about finding your content tilt in the Content Inc book.
The main idea is this: if your content isn't different in some way, it will fail.
You have to find an under-explored area where you can thrive and start producing valuable content.
And since you are using WooCommerce, you are in luck. WordPress posts are two clicks away.
Using related products
We know, you' re already aware of this!
What you might not know is that some plugins and services are using Amazon-style algorithms to recommend products.
There are a lot of services out there trying to predict user behavior. Nosto or Yoochoose will charge you only if you sell products based on their recommendations.
Performance pricing all the way!
Top products widgets/sliders
These might not always be relevant to your customers. From a strictly SEO perspective, you want your best sellers ranked well in search engines.
Having a slider or a widget present will increase their importance within the site. Search engines will pick it up, and they will stamp the products with a higher priority.
Recently viewed products
It sounds like a thing from the 90s 🙂 We all know it's old. Nevertheless, you would be amazed of the conversion rates you could get by using this simple feature.
People seem to forget what they visited.
It's not that uncommon if you think about it. We are bombarded non-stop with all kinds of information. Missing things is easy!
From what we have tested, a simple widget with the last 4-8 visited products will get you at least 5% conversion rate for the traffic that goes through it.
Social sharing buttons
Quite a controversial subject for us. Simply put, we don't like them on eCommerce sites.
Most of the time nobody uses them. After all, why would anyone share your products?
It's a fact that any share button/script will slow down the page loading. In most cases, it leads to lower PageSpeed scores.
Instead of getting your hopes up that someone will eventually share a product on social media, you are better off figuring out some legitimate ideas to grow your business.
You might not like the conclusion …
There is a whole bunch of stuff to do. Not only for search engines but the users.
Will you kill it in search engines if you do all them?
It's likely that you will. But it could happen that you won't.
What you need to realize is that everybody is trying to please Google. Everybody is trying to do most of the things we talked about.
The ones who will end up on top will do so by the quality of implementation and by creativity.
You just can't have one without the other. Most people have only one or none of the two.
If you can do both, you will win!
Highly passionate about data, analysis, visualization, and everything that helps people make informed decisions.
I love what I do! I am working to improve speed in every aspect of my life and that of our clients.
I find comfort in helping people, so if you have a question, give me a shout!