1. WP eCommerce
The one that makes you pay for the product gallery
Themes
We have tested Mazine, the most popular WP e-commerce theme on themeforest.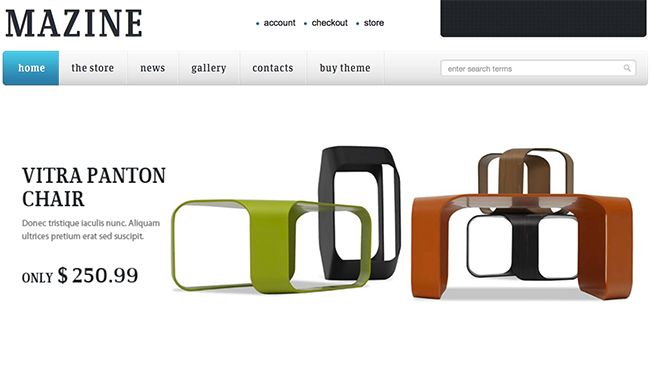 Here are the main takeaways:
the design is pretty bad; I guess the template hasn't been seriously updated for quite some time
you will probably need a designer and a front-end developer to make your shop look acceptable
Out-of-the-box features
table rate shipping is integrated (on woocommerce is available through a paid add-on)
Advanced checkout fields are also available
Product import – a very useful feature for any online store
There is a premium version of the plugin named Gold Cart (priced at $99 for a single site) which offers:
grid view
additional product images and product gallery (yes, you read it right)
live product search

it is not as much a search system as it is a filter on the product category

Issues
on the checkout page, you have to choose your country and city before you can enter your shipping and payment info; we don't like the default shipping calculator very much

you can disable it from your store settings, or you can use an external one like UPS

product variations are added as individual products

these could fill up your database pretty quickly, especially if you have products with a lot of options such as Apparel or Footwear
each size and color combination will be a separate item
if you have different images for product variations, you won't be able to check it out when selection your options

you will see a the variation image only on the cart page
I'm guessing this is happening only for the free version of the e-commerce plugin

you cannot remove the base URL from categories or product pages

on Woocommerce, you can eliminate the usual "/shop/" root from URLs just by setting the Shop page as the front page from the WordPress Reading Options

a user on a WordPress forum was complaining that WP eCommerce does not offer the possibility to ship internationally

it isn't true; you can ship internationally using different rates for each continent


an important issue is the product gallery: on the product page, you can't display additional product images without the paid version of the plugin
Asking yourself how can such a weird limitation exist? Same here!
Extensions
45+ extensions on codecanyon
26 premium extensions on the wpecommerce.org official website (mostly shipping and accounting integrations)
Stats
3,252,585 downloads on wordpress.org with 60,000+ active installs

active installs/number of downloads: 1.85%

average rating from wordpress.org users 3.5 (out of 5)
themes available on themeforest: 10+
there are no templates available on their official website, but you can pretty much integrate the plugin with any WordPress theme
2. MarketPress Pro
Get ready for monthly payments
If you need support, this plugin alone will cost you $19 a month.
Or you can go for the full WPMU suite for $40 a month including support for all their plugins.
If it's not that important to you, cancel the subscription and keep the code. You won't be able to apply future updates, though.
We should mention right from the start that Marketpress doesn't offer any extensions or custom themes. They claim that the plugin has it all.
Does it now? Let's break it down and see for ourselves!
Out-of-the-box features
it includes external payment gateways right from the get go

prominent ones include 2Checkout, Authorize.net, and Stripe


shipping options

it includes table rate and weight rate shipping
it's integrated with FedEx, UPS, USPS (the first two are in beta version)

it is multisite and multilanguage (WPML) compatible
the "User Capabilities" setting is pretty neat

you can set custom permission for each user group

the variations system is ok

you can add a different image per variation and set up price reductions for any of them
you don't have the ability to sort them, which could become annoying sometimes


you have the possibility to add downloadable and affiliate products
even though the claim is that you don't need add-ons, the store has two default ones for coupons and PDF invoicing.
Ease of use
the quick setup process is very well thought

going through the four steps of the setup resolves most of the settings you need
here is a screenshot of the admin


the checkout page is very straight forward

it has two steps (on the same page)

Billing/Shipping options
Order review and payment

the ajax powered process gives it a great overall look

there are a lot of shortcodes designed to help you easily integrate Marketpress with your theme

some of these include: navigation, categories listing, tag cloud, popular products, buy button, cart widget and so on

there are no graphic reports in the admin area like Woocommerce has
Issues
permalinks

the URL base is present here as it is for most WordPress e-commerce plugins

there are no product filters

here is a post on the wpmu forum from back in 2012

After all these years, they still consider that product filters aren't worth the extra effort. I beg to differ!
Themes
there are no specific Marketpress Themes

the WPMU team claims that the plugin is compatible with any theme that respects the WordPress coding standards

the widgets and shortcodes are a big help regarding the customization of the theme

you can tackle it even without a lot of development or design experience
Free and premium version stats
premium version: 147000+ downloads (from the wpmu.org website)
free version on wordpress.org

169000 downloads with 6,000+ active installs

active installs/number of downloads: 3.55%

average rating from wordpress.org users 3.5 (out of 5)
themes available on themeforest: none
3. JigoShop
The one with the sad story
I don't know how many of you know the story between WooThemes and Jigowatt.
So, here is a quick summary:
Back in 2011, the Jigowatt e-commerce plugin called, you guessed it, Jigoshop started getting traction among WordPress users.

WooThemes was struggling to develop their e-commerce plugin. They didn't manage to do an exceptional job so they hired the two primary developers from Jigowatt. They also tried to buy Jigoshop, but they were turned down.

So they decided to fork the Jigoshop open-source code. Forking means they copied the code entirely and started developing on that base.
Apart from the story, there is still a good plugin to be analyzed. Here we go!
Out-of-the-box features
free CSV import extension

you cannot import reduced prices
you cannot import brands, even though there is an option available on the product page
unable to import fields with multiple values (useful for images and such)
here is how you can map the CSV columns

*if you decide to purchase the Premium version of the plugin you can import sale prices, product variations or even orders

you can add custom images for product variations
there is a built-in personalized product field option
it offers three types of product attributes: text, select and multi-select
someone was complaining about the lack of a wishlist

there is an available extension; only it's not free
Extensions
50 dedicated extensions on codecanyon
312 extensions on the Jigoshop website, of which 42 are free
Better than Woocommerce at
support for the little guy – the Jigoshop team is offering free support on WordPress.org
they have paid support packages starting with $40/month

with the $500/month plan, they are offering Full Website Support including 3rd party themes, custom development, and monthly updates/upgrades
you can compare their pricing here

community involvement

we are finding answers from two or even three Jigoshop support team members at the same time on wordpress.org forum threads
Worse than Woocommerce at
market share and popularity
number of optimized 3rd party themes
paid extensions for basic eCommerce functionality (free add-ons or built-in on Woo)

up-sell/cross-sell functionality
wishlist
product sorting – really don't like paying $49 for this (maybe the Jigoshop team could figure out a way of making it free for everyone as it should be)

multi-language: currently the Jigoshop WPML extension is under development, so you can't use it on your website
less payment and shipping extensions
no iOS app 🙂
Documentation
every extension is documented on both Jigoshop and WooThemes, almost each one with an explanatory video
all the hooks and functions are documented
Stats
504,600 downloads on wordpress.org with 10,000+ active installs

active installs/number of downloads: 1.98%

average rating from wordpress.org users 4.4 (out of 5)
themes

available on themeforest: 2
available on Jigoshop.com: 80
Comparing costs with Woocommerce
We can't argue that using Woocommerce could hurt your pockets if you need a lot of premium extensions. These are expensive, but they are doing their job properly.
Jigoshop offers a suite of extensions that are a little bit cheaper than the Woocommerce ones.
Just to name a few:
Table rate shipping: $49 vs $199
Subscriptions: $85 vs $199
Discounts: $69 vs $129
But, Jigoshop doesn't have all the free extensions Woocommerce has. 61 vs. 1000+ free plugins on wordpress.org.
The community has stepped up for Woo in this case.
Bottom line
We can't make this decision for you. The differences are hairline small.
If you narrowed it down to Jigoshop and Woocommerce, you would have to go with what your gut tells you in this case.
4. Shopp
The one that doesn't like the WordPress way
Right from the start you are alerted to upgrade for support



*even the support forums are closed to the non-paying customers
There is a full API specification on their website that is open to the public. It includes the specifications regarding filters and hooks, template files, all the Shopp functions, etc.
Out-of-the-box features
there is an integrated discounting system

someone was complaining about the promotion options on WordPress.org forum (this was about three years ago, so things might have changed along the way)
we have to say that this is not the case; as you can see in this screenshot the options speak for themselves


they state Schema.org is integrated

it is true, but the options are primitive at best
the Schema.org properties are implemented using meta tags; most likely these won't be considered high quality by Search Engines


virtual, downloadable and subscription products
default payment options

product variations

good parts

they are easily linked together (useful for multiple sets of attributes)
fast ordering
custom prices for each variation

the bad: no custom image for each variation

good shipping options

leading carriers are integrated

you can add destination rates

built-in backorders

on Woocommerce, this can be done only by the use of an extension called "WooCommerce Pre-Orders"

product add-ons

you can't add images for these; it's a dropdown of add-on options

faceted navigation

you have to enable it for each category you want it to be present
we had a hard time trying to set it up
Ease-of-use
good looking reports in admin

I would say that these are prettier than the Woocommerce ones
it includes heat maps for the order locations
They are useful, but you need sales not pretty graphs! Right?

there is an integrated order return process
the checkout is a straightforward, one-page simple process
Issues
The Shopp doesn't use the WordPress Media Library for product images.
We didn't even try to fix the issue shown below because we think it's a mistake not using the WordPress way of adding media.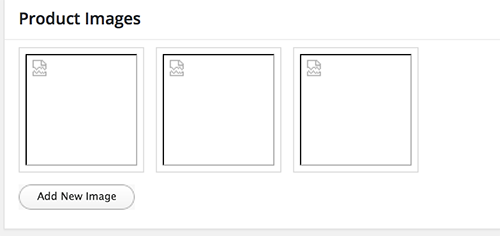 Design
we found a free theme on their official website called Nature and paid one on Mojo Themes called Nancy (compatible with both Woocommerce and Shopp)
as far as theme integration goes you don't have the diversity of shortcodes that Marketpress provides

we found two: one for categories and one for products
Performance
Shopp implements the PHP autoload features to reduce vastly the amount of memory used
Search indexing – great feature that is available on Prestashop
Product summaries indexing: pricing, discounts and sales (same situation as with the search)
Image cache (make sure to clean this once in a while)
Official extensions
The Shopp Plugin store is listing 59 items, most of them to be used for shipping and payment integrations.
Also, 6 of these are support related (plugin installing, support credits, etc.). So not all of them are extensions.
Stats
45,000 downloads on wordpress.org with 6,000+ active installs

active installs/number of downloads: 13.3%

average rating from wordpress.org users 3.7 (out of 5)
there are no themes available on themeforest expressly designed for shopp

the design situation is similar to Marketpress, so you can pretty much integrate the plugin with any WordPress theme
5. Cart66
Going cloud
Cart 66 Lite and Pro versions are conventional eCommerce plugins for WordPress.
Cart 66 Cloud is their way of securing your checkout process.
You have the entire checkout process in the cloud. Everything is still hosted on your website (products, pages, etc.), it's just the cart and checkout pages that are moved on your-subdomain.cart66.com
Good things
makes your store PCI compliant

the users credit card details are stored securely in the Cloud
even if your WordPress site is hacked, all the confidential data is safe

secured with an SSL certificate
Gravity Forms compatibility
the hosting is provided by Amazon Web Services
Could become problematic if:
you need full access to the code from the cart/checkout page
you need a different payment gateway than the ones listed in your dashboard

there are a lot of options here; in most cases you won't have a problem with this


you want to use one of the plugins it's not compatible with

not being able to use Yoast SEO is a deal-breaker for us
The price for the Cloud option is $95 per year.
Let's carry on with the review of the actual eCommerce plugin.
Issues
First of all, we should mention that it was a real challenge to find the products on our site after we added them from the Cart66 admin.
Asking yourself why? Because they can only be added through shortcodes on pages and posts.
So the process of adding products involves two steps: creating the actual product and adding it to a WordPress page.
There are no categories on Cart66 because you will have to use the WordPress ones. It's the same thing with product images.
Other problems we have spotted:
deleting the plugin does not remove the products from the database
promotions are only available through coupons, so tiered pricing is out of the question
there are no shipping integrations; you have to add manually each one in the admin
there are no product attributes
Good features
it offers digital, membership and subscription type goods
user-defined product pricing (donations and such)
good coupon code functionality

order export function – very basic using custom dates
cleaner URLs: you don't have the base URL issue found on all of the other eCommerce plugins because you are using posts and pages as product pages
User experience
the non-cloud checkout is a two step process

on the cart page, you have to select your shipping option from a drop-down menu
on the cart page, you don't have thumbnails for product images (product images don't exist per se on Cart66)

variations aren't able to have custom images
there are no category filters; Cart66 just doesn't work that way
Recommendation
Cart66 could be useful if you are desperate about PCI compliance and you don't have too many goods to offer. Managing more than 100 products with this eCommerce plugin will be a massive headache.
You have to pay for both the Pro version and for the cloud service to be able to offer the full Cart 66 functionality.
Stats
Cart66 Lite has 184,000 downloads on wordpress.org with 4,000+ active installs

active installs/number of downloads: 2.17%
average rating from wordpress.org users 2.8 (out of 5)

themes available on themeforest: 5
available for Cart66 Cloud on the official website: 5
6. Easy Digital Downloads
Digital products revolution
Themes
We have tested Squarecode. It's not just a theme, but a marketplace. At least, they state it as such on themeforest.
Squarecode and all the Easy Digital Downloads themes are spotless and easy to use.
Just have a look at this product page and you will start to feel my excitement, too. It is simple, usable, beautiful.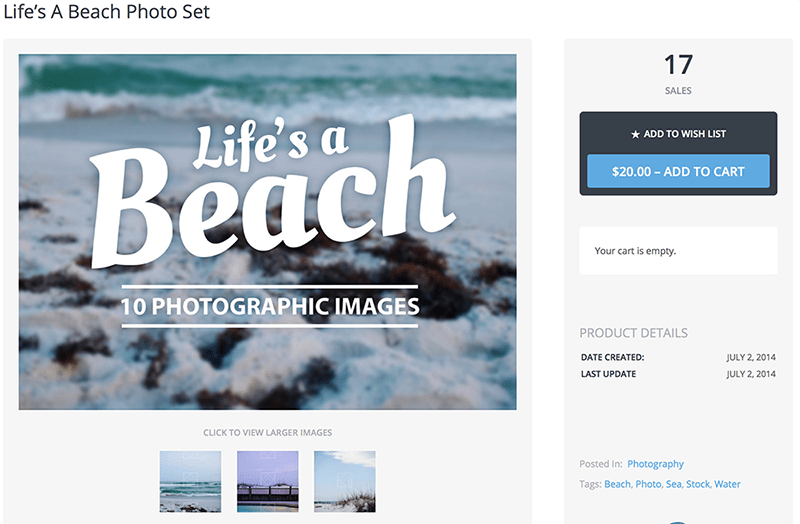 Checkout process
The checkout process is outstanding:
after you add a product to your cart, the "Add to Cart" button becomes "Checkout" and the cart content appears underneath it
the Checkout page couldn't be any simpler

it's a one step process out-of-the-box
if you have only the Paypal payment method enabled, the form will contain just three fields of which only two are required

Payment options
Right from the start you can use PayPal and Amazon Payments.
Here is how the gateways admin looks: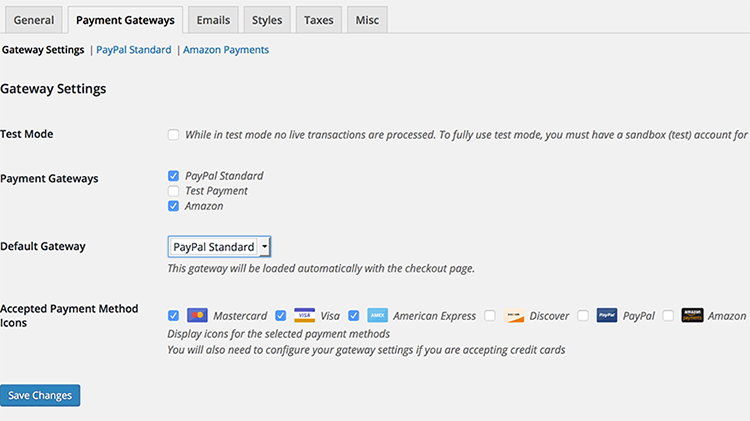 On the easy digital downloads website, you can find 42 more payment extensions including Stripe, Authorize.net, 2checkout, Skrill, Payza and so on
You can also configure conditional payment gateways for each product. The extension that allows you to do this costs $29 for a single-site license.
Recursive payments
You have the ability to sell subscriptions with a paid add-on. It's not very cheap (prices starting from $83), but it could become very useful for your business.
Extensions worth mentioning
Visual Composer
Marketplace Bundle – a discounted collection of extensions allowing you to turn your store into a marketplace
Discounts pro

it allows you to create all kind of promotions on your website such as flat discounts, percentage price, product quantity, each X item, and discounts for all carts with more than X items
for generating coupon-based discounts, you can use the integrated feature


there are a lot more extensions available on codecanyon (110+) and at their official website (165+ not including 3rd party)
Stats
918,901 downloads on wordpress.org with 50,000+ active installs

active installs/number of downloads: 5.45%

average rating from wordpress.org users 4.8 (out of 5)
themes available on themeforest: 10+
there are no templates available on their official website, but you can pretty much integrate the plugin with any WordPress theme
We have to say that the only thing we honestly don't like about Easy Digital Downloads is their name 🙂 Everything else is close to spectacular.
I hope they will get into the physical goods business. They could be a strong competitor to Woocommerce.
How are the trends?
Here is without Woocommerce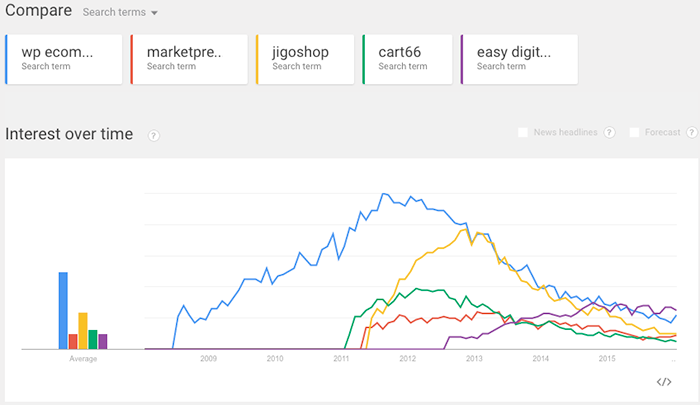 With Woocommerce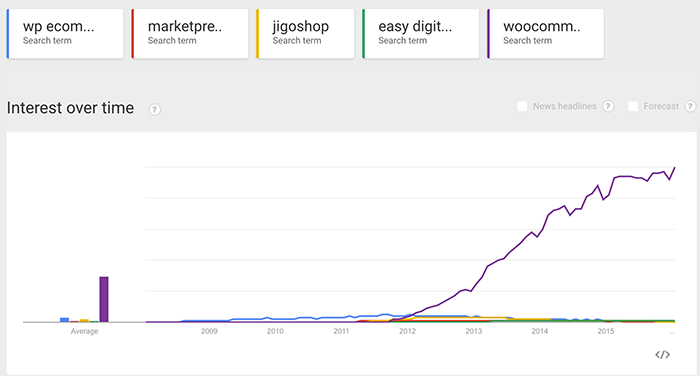 Obs.: we didn't include Shopp in this comparison because there are a LOT of irrelevant searches from South America that mess up our data
Takeaways from the search trends
Easy digital downloads is looking good – our guess is that it will take off sooner or later
Jigoshop had a huge drop since it's peak – let's hope that their new management will get them back on the right track (the plugin isn't that bad)
the key point in time was in 2012 when Woocommerce took their chance and exploded
All the plugins we looked at in this article have good parts and bad parts.
It's important that you pick the one that is best suited for your business. Or, if you don't mind the monthly costs you could try a solution like Shopify.
[Tweet "Now that you know the search trends, you have to forget about them and focus on features"]
Highly passionate about data, analysis, visualization, and everything that helps people make informed decisions.
I love what I do! I am working to improve speed in every aspect of my life and that of our clients.
I find comfort in helping people, so if you have a question, give me a shout!