Prerequisites
The demands were simple for the RugbySport.com project. Increase the speed of the site without breaking anything.
So let's get into the optimization process!
The front-end optimization
configured the Prestashop CCC options

fIlesystem cache
CSS and JS optimization
moved render blocking JS in the footer
Apache optimization

lossless optimization for all the theme, CMS and module images
loading locally the external fonts
configured MaxCDN to serve most of the site's media files (images, JS, CSS)

we used three subdomains as Media Servers to parallelize requests across domains (also, to keep the images indexed in Google on our domain)

implemented "Async" loading CSS
cache module

we set up a cache warmer that runs every night: it passes through all the site's URLs
Server improvements
switching from PHP 5.5 to PHP 5.6
installed and configured APCu (not to be confused with APC)
the MySQL query cache is important for less database pressure
Difficulties & Headaches
CDN issues

we tried to work with two CDN services; after banging our heads against the wall with a generic one (redirection issues, blocking fonts to load etc.), we decided to use a professional service like MaxCDN

combined CSS issues on mobile devices

sometimes the minimization process will break some CSS rules

one popup module was causing redirect chain issues

also, showing up at first-time load could be annoying for the user

conflicts with the cache module

the UE cookie notice: wasn't going away after closing accepting the terms
Results
Webpagetest comparative
Before

After

After vs before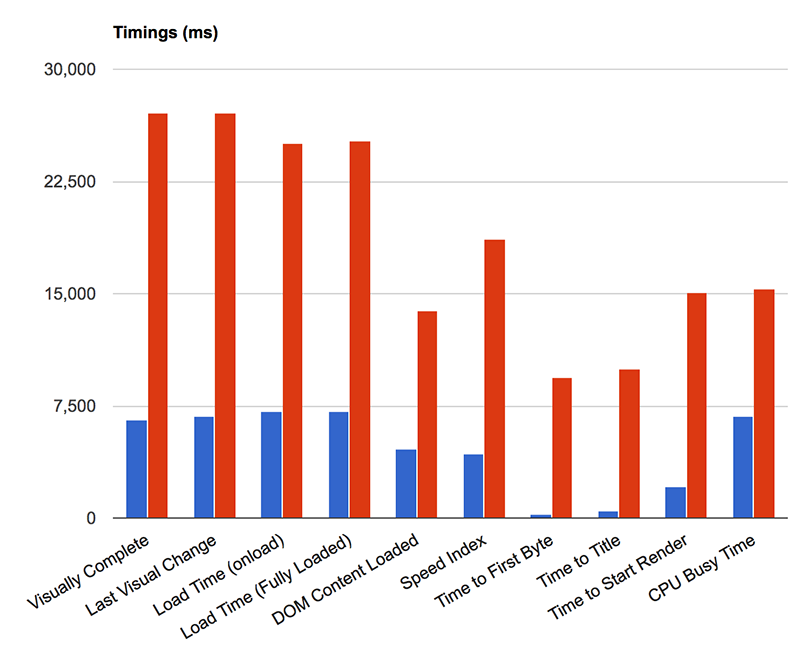 Actual loading time [Video]
Google Pagespeed Insights
Product page final score

Category page final score

A word from our client
Working with Prestashop for us is vital, and we decided to invest in a Dedicated Server to create the best possible environment for our store. We installed a different speed-up addon that promised to improve our site performances, but we found out that server upgrade and some useful add-ons were not enough and I felt we needed a more professional approach.

Checking the internet I've found Canonicalized.com with some great tips, articles, and a very active chatbox. I decided to give it a try.
Dorian was very patient and kind to illustrate us precisely what was not working on our site and how he could work to improve our speed rank (which hopefully will also reflect on our SEO score).
He offered to optimize the server and our site to suit our store better and in the end create the best solution for a customer that want a quick and pleasant shopping experience.

The Work was done in a very efficient and fast way, with clear indication and a clear roadmap. Dorian was always open to suggestion and informative too, we've also learned a lot and not only paid a bill and goodbye.

The results regarding performances were massive and far better than we expected. Now I feel the money we invested in the website itself and with the server with the proper optimizations that Dorian brought in place are making a real difference.

I would recommend Canonicalized.com and Dorian, give him a try.
He stands really on top of the average service you will find around. And don't forget to add his site to your bookmarks if you want to learn something too, you won't be disappointed.

Fabrizio Spanu, RugbySport.com
Highly passionate about data, analysis, visualization, and everything that helps people make informed decisions.
I love what I do! I am working to improve speed in every aspect of my life and that of our clients.
I find comfort in helping people, so if you have a question, give me a shout!