SEO Rambler – The competitive analysis tool
Compare your site against the
TOP 10 competitors
Drop a keyword and your URL to see where the competition has an edge
1. Enter your keyword and URL

Does it keep you up at night to know that your competitors are ranking well on Google and you are not?
You are on the first page, but you want to be among the TOP 3?
Wondering how optimized a page from your site is for a particular keyword?
Want to see how your SEO optimization compares to that of the TOP 10 from your niche?
Start testing to figure it out!
2. Examine the Rambler results
Compare highly relevant SEO factors with one click:
readability ease
word counts
images on the page
external links
semantic relevance (TF*IDF)
Page Authority and Domain Authority
Google Pagespeed Insights score
Compare with every competitor, with the TOP 10 and TOP 3 average.

3. Put the knowledge into action

After you get the SEO scores overview, you can start tweaking your site for improvements.
The SEO Rambler will show you where you are not working enough and where you are overdoing it.
Do you want to be among the first three ranking websites or your goal is just the first page?
Check out the averages to see where you should put in more effort!
Competitive SEO Analysis
"He who can modify his tactics in relation to his opponent and thereby succeed in winning, may be called a heaven-born captain."

Sun Tzu
A lot of us look at the SEO competition almost every day. But, not all of us can perform an analysis in a way that matters.
In this article, we are going to develop a way to go at an SEO competitor analysis with the right mindset. The kind of approach that will put you in the best position to succeed.
The purpose of this article is to present you with a vision, a direction, and an SEO strategy.
First of all, we have to figure out the "why". Why are we looking at search engine competitors from search engines? Should we even bother?
The primary goal is to learn. Think of it every time you are getting ready to look at any site or metric.
Being steadily aware of your actions is crucial in these moments!
If you feel you won't get anything useful out of it, don't do it. Not only that you won't get any knowledge out of it, but it will also eat up precious time that should be spent on doing.
SEO competition diagram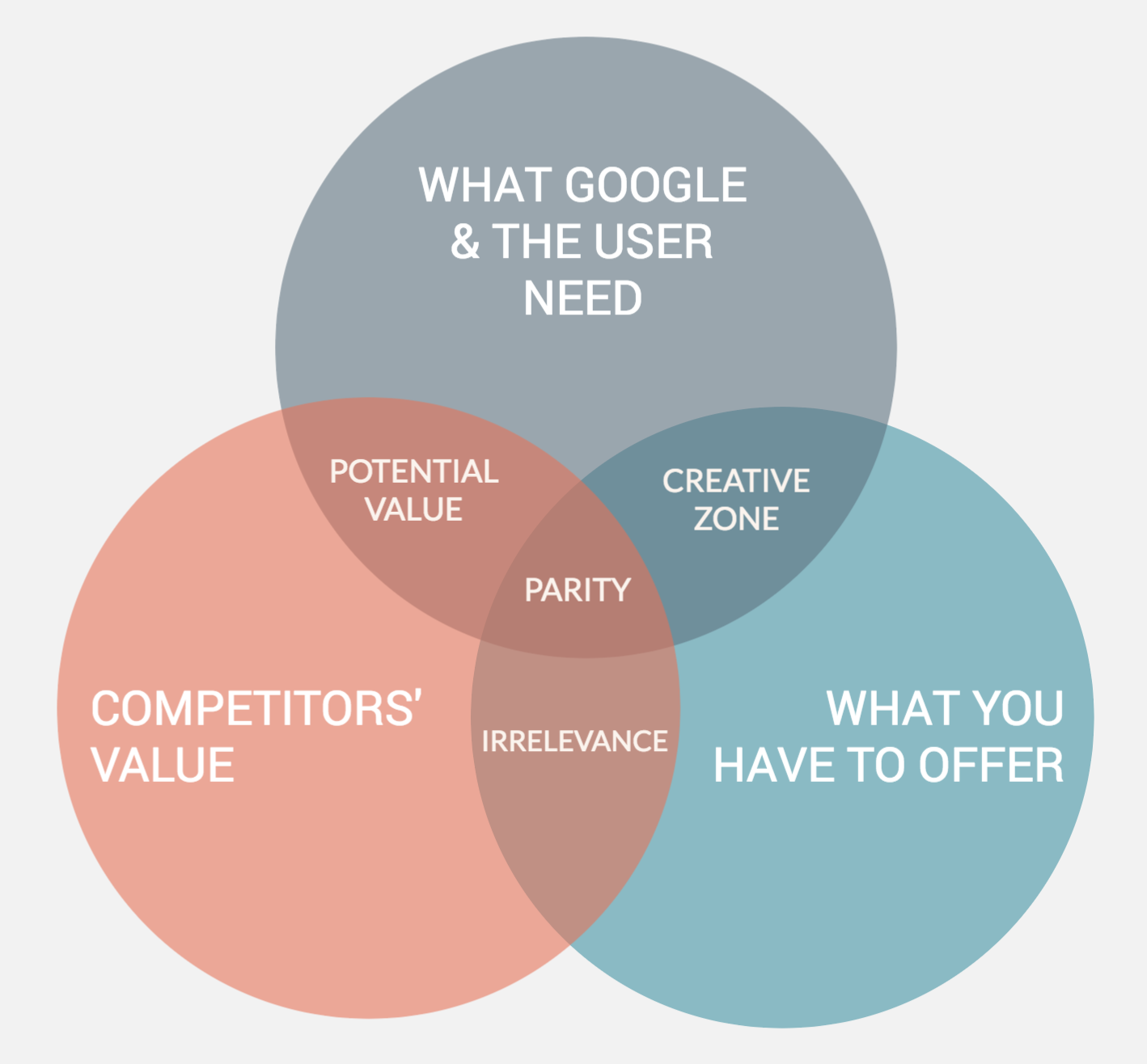 The competitive analysis process will show us where to focus our efforts in a way that matters.
In this way, we avoid wasting effort on stuff that doesn't matter and prioritize the thing that can bring real value to our business.
With that in mind, let's dive in!
The three-layer approach
It might come as a surprise to some of you, but analyzing the competition is not all about backlinks and keywords.
A competitive SEO analysis is not about why X is in the first position, and I'm not.
It's much more than that!
It's about what we can do to learn and improve. It's about ideas.
The way we are looking at it is to start from the top (Industry) and break it down until you reach the keyword level.
Industry > Business Vertical > Keyword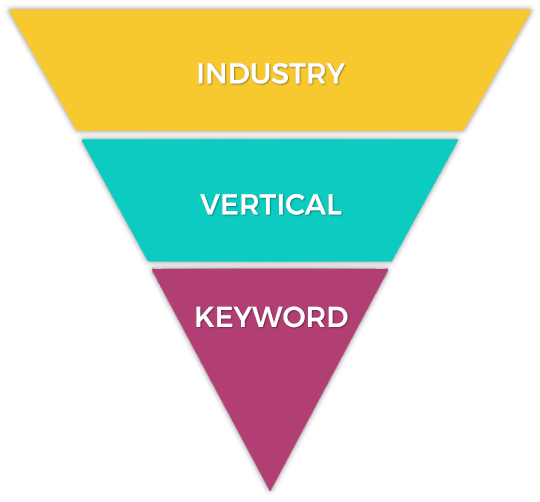 For each of the three levels we are going to look at:
how to go about it with the right mindset
how to analyze, gather and plan ideas + tools that can actually help
one or two examples to double-down on what we are trying to communicate
Let's dissect each of the three step-by-step!
Figuring out the Industry
What can I learn from the ones that made it?
Contrary to what you might think, you don't really need any fancy tool to figure out your industry, just a little bit of patience and about 15 minutes of spare time.
On this step of the pyramid, the foremost objective is to write down every potential competitor we can think of.
If a website has a bit of content related to where we want to go, we are going to add it to our list.
We will filter it down along the way.
There's no tool like Google
If you start typing general keywords into Google, you will begin noticing potential competitors.
Aside from them, you'll notice all kind of results like commerce sites, blogs, Wikipedia pages, videos, images, ads, etc. All of them play their part in your industry's ecosystem.
Let's say we want to get a competitive SEO insight for a hiking store in the UK. We will start searching for stuff like "hiking clothes UK", "hiking accessories", "hiking equipment", "ski clothes", etc.
If you don't feel like clicking every result and checking out the competition, you can use a simple tool like the SERPs Bookmarklet to extract all the results from your search.
Here's an example from our quest: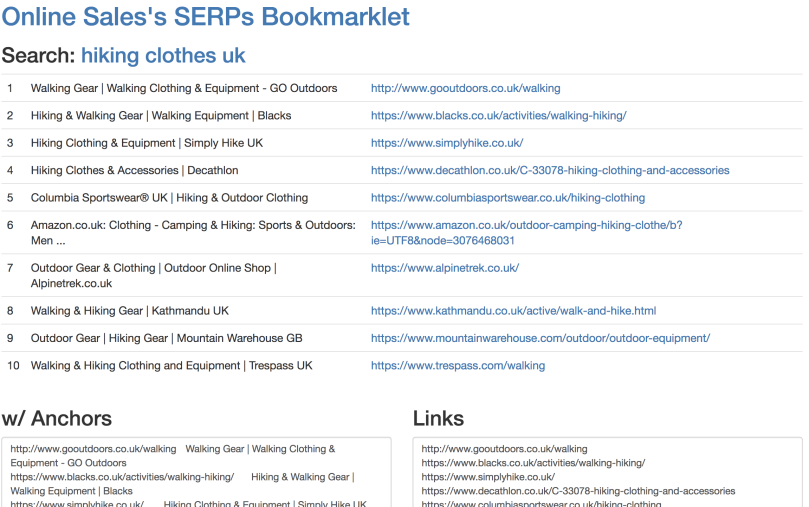 You can even increase the number of results to 100 to gain more time. After a few rounds of searches, we have a list of around 500 links.
We will trim our links to their root domain and count how often they appeared in search results.
Here's what we have right now (we can already notice some patterns):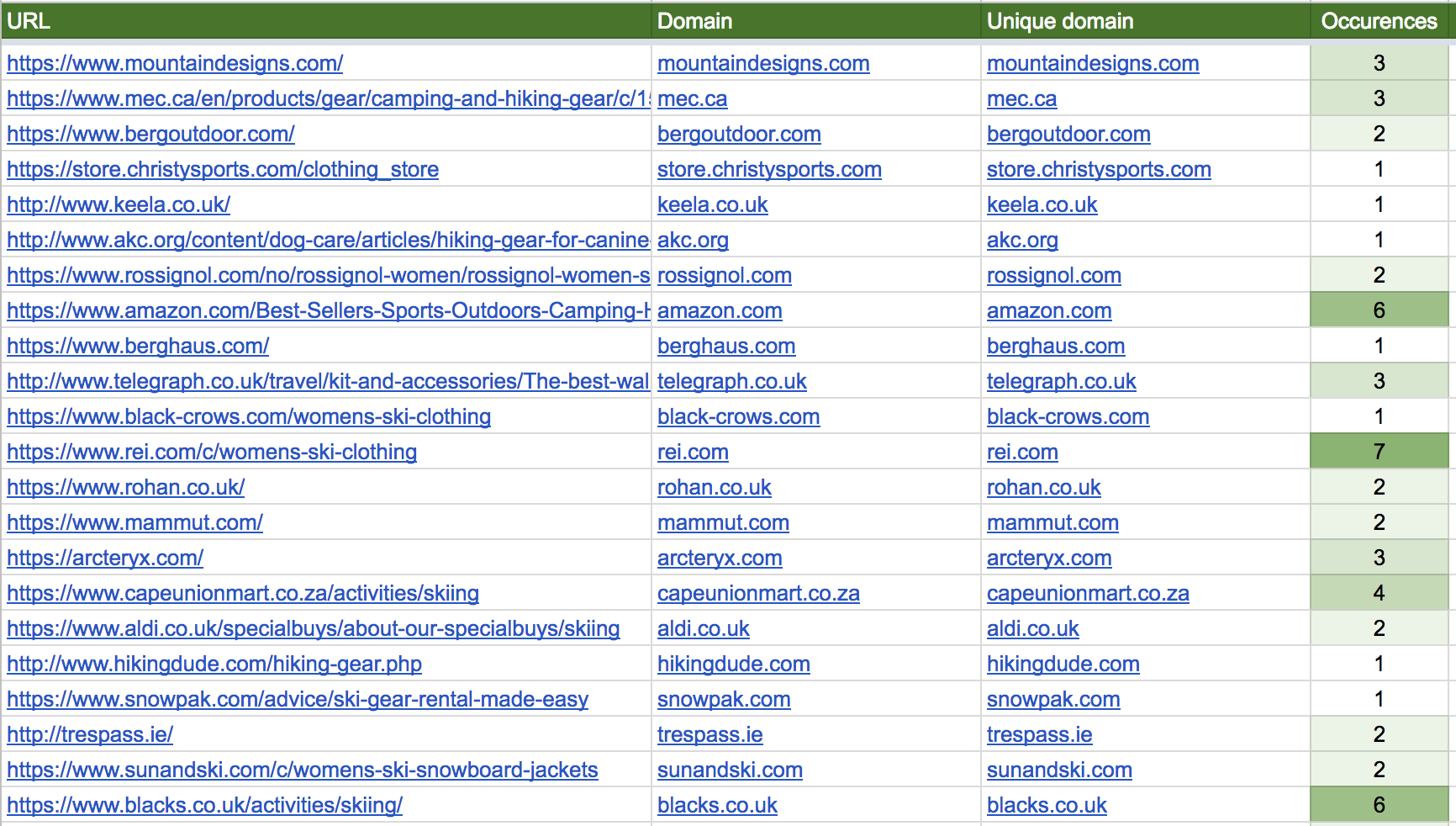 Here's a link to this Google Sheet.
It's still early to tell, but with enough search data, we can build our competitive landscape.
Building a broader picture
At this point, we can search until we feel we reached a substantial amount of data, or we can try to use some smarter tools.
In our case, we'll use the Ahrefs Batch Analysis tool (paid service) to figure out the organic search visibility for all of our competitors.
Now, I would export this data and drop it into a visualization tool like Tableau (you can just as easily use Google Sheets).
Inspired by the SemRush Competitive Positioning Map, we built our own bubble chart to look at the play-field.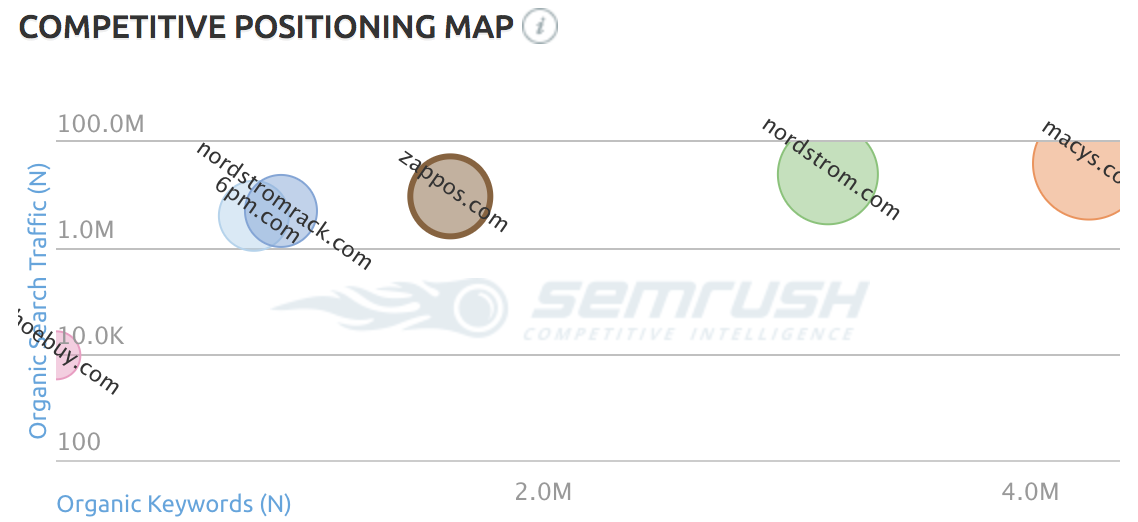 After filtering out websites like Youtube and Facebook which are not relevant to our competitor's analysis, we are left with this graph (which is a bit better than what SemRush has to offer):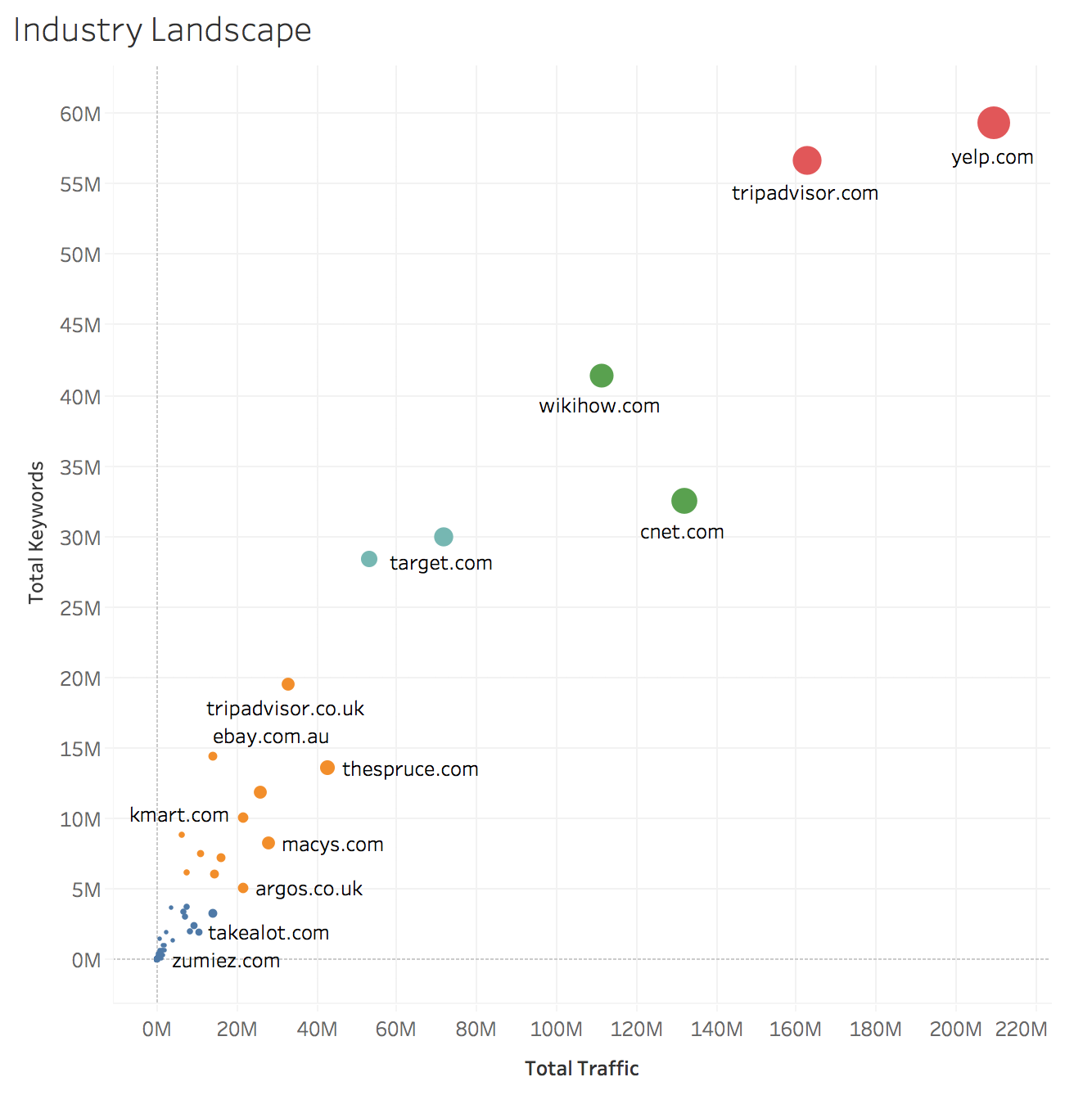 You can notice how we colored the different competitor groups. It's where Tableau shows it's strength: within two clicks we managed to create insightful clusters.
So this is our current Industry overview.
What we need to keep in mind is that the giants like TripAdvisor, Yelp, WikiHow, etc. are only partially present in our competitive landscape. The same goes for general e-commerce websites like SportsDirect, JohnLewis, Macy's, etc.
Business competitors vs Organic competitors
If we are in the business of selling clothes, we can't say that TripAdvisor is our direct competitor.
What we can do is to group or tag our search rivals by website type.
For example, we can use something like:
forums
magazines
blogs
general e-commerce
direct competitors
For the lazy of us, the tagging could be a tedious process. We could hire a VA to sort things out on our behalf, or we could try a bit of artificial intelligence.
It is possible to tag our websites right on our competitor Google Sheet.
We can try either the IBM Watson Natural Language Understanding API (formerly known as Alchemy API) through something like Blockspring or the Aylien Text Analysis API through their Addon.
The categories are a bit different to what we want, but the filtering options in Tableau are handy in this case.
You can see below how we found "canoeing and kayaking" websites within the UK: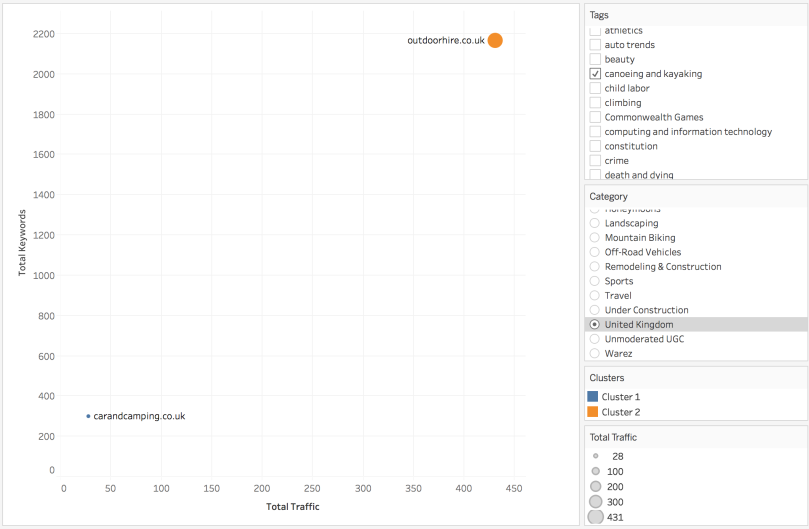 The purpose of slapping categories onto our websites is to draw a line between our direct competitors and the other sites.
We want to learn from our competitors SEO and store the others as opportunities for partnerships involving PR, content marketing, social media, and so on.
Which brings us to the next layer of the competitive pyramid, which is business vertical, where we are dealing with our organic rivals.
Dissecting the Niche (Vertical)
Who is top dog in this area?
A great piece of advice we have received along the way is this: go into a niche only if you have a real shot at becoming number one.
Why can't we settle for the second or third place?
In most cases the market leader will eat up such a big piece of the pie, there could be only scraps left for the other players to share or fight over.
But what if the section of the industry is too crowded?
Niche it down until you get to the point that feels right on market potential and competitiveness.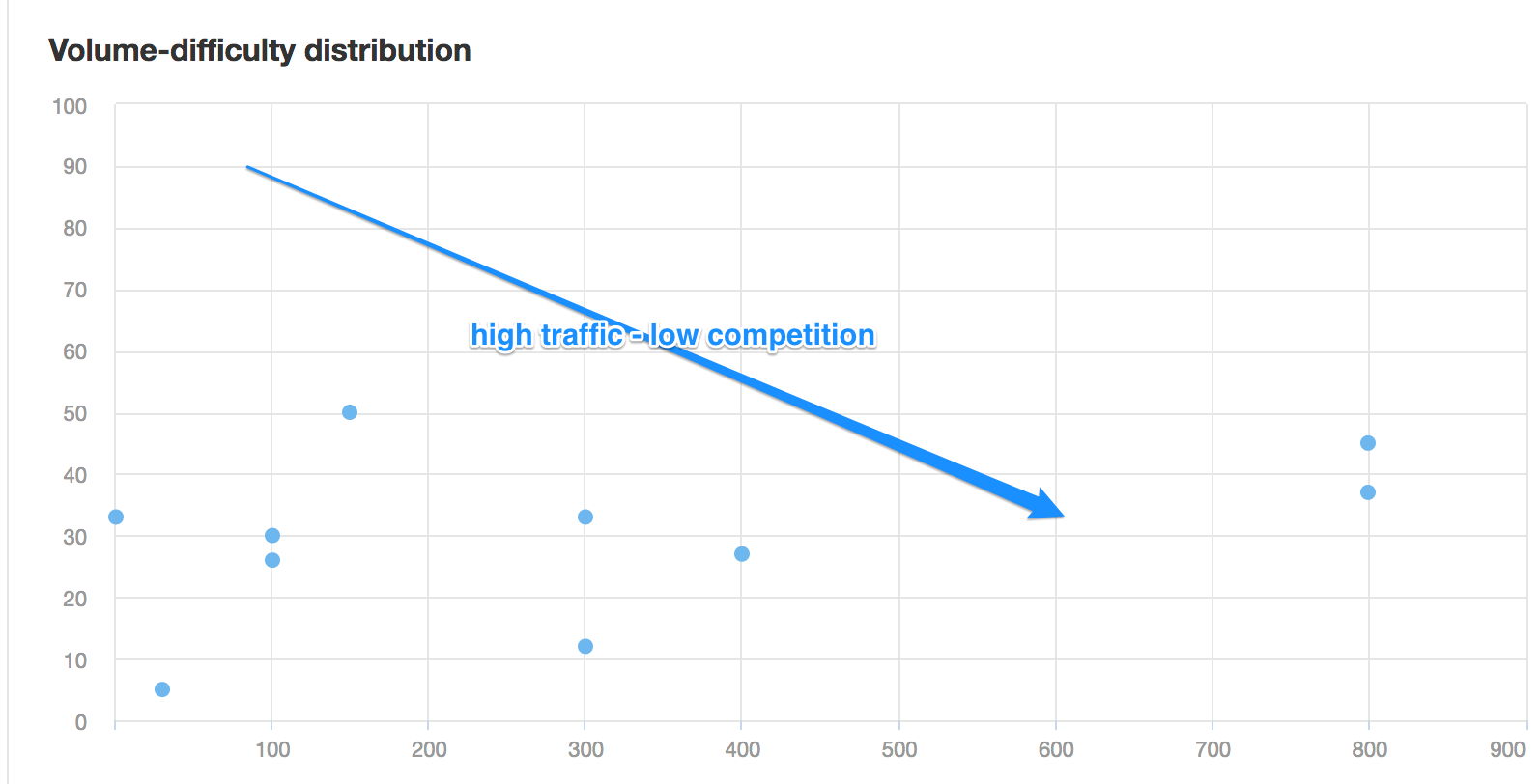 As an example, let's say we want to sell "women socks". Seems like a tough nut to crack!
How about if we settle for "winter socks"? It seems even worse!
Let's go for "leg warmers"! They seem fun and are quite popular.
In fact, SemRush tells us it's the least competitive keyword and the most popular one.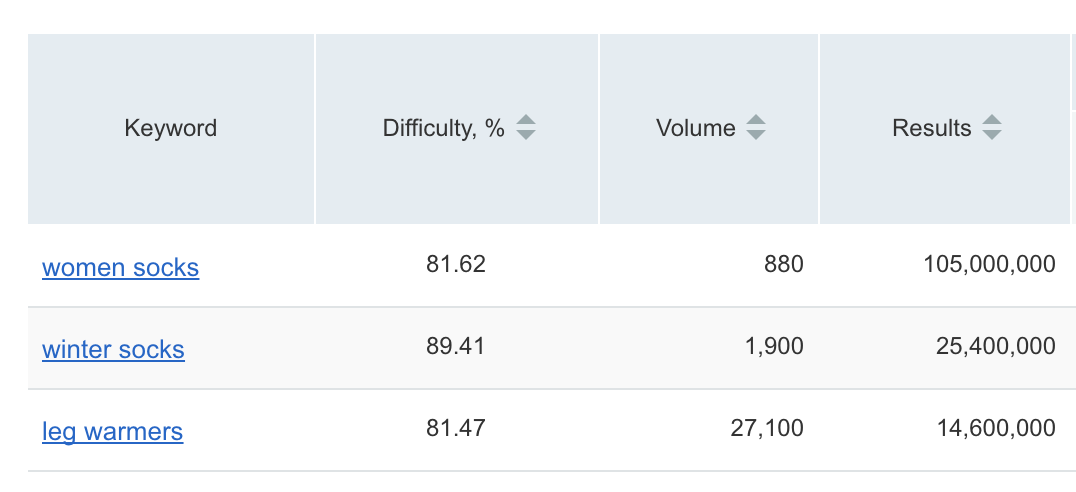 Look at that! Niching down could actually work!
There are a lot of examples out there on niching down. Here are two that caught my attention from I will teach you to be rich and the wellness business hub.
But more on keywords in the last section of the article. For now, let's focus on our direct competitors.
Business Vertical Overview
Once again, it manual labor time. We will have to tag every direct competitor from our sheet.
We can speed up the process by opening our list of websites in separate tabs using a browser extension.
Since we've given you alternatives to manual work along the way, you might like this one too. It's a Slack bot going by the name of growthbot.
You can ask him to show organic competitors for any domain like so: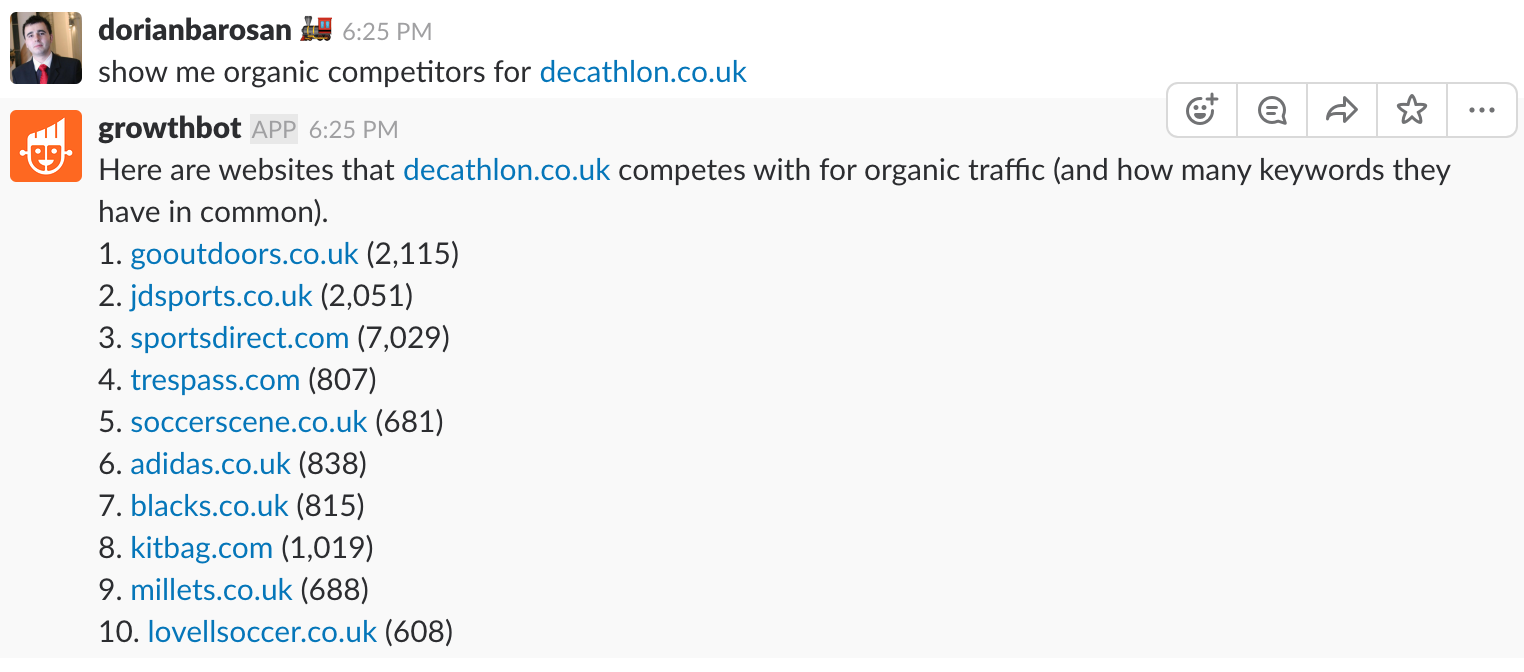 You can go from site to site to compile an extensive list.
Once we have them, we can filter our dashboard to show only our direct SEO competitors: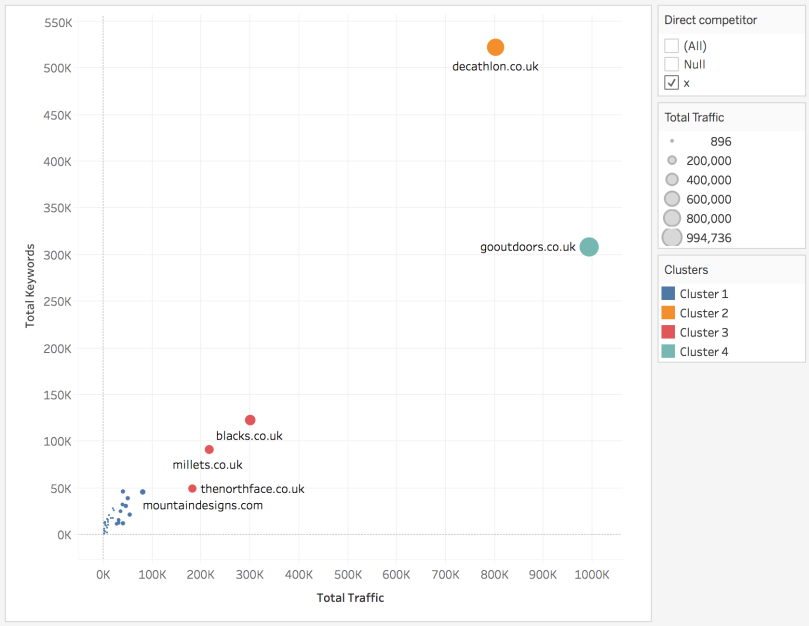 Our clusters are still active. In our example, we have a clear separation between the big brands and the contenders.
There's also a middle part where we can spot the ones who are getting ahead of the pack: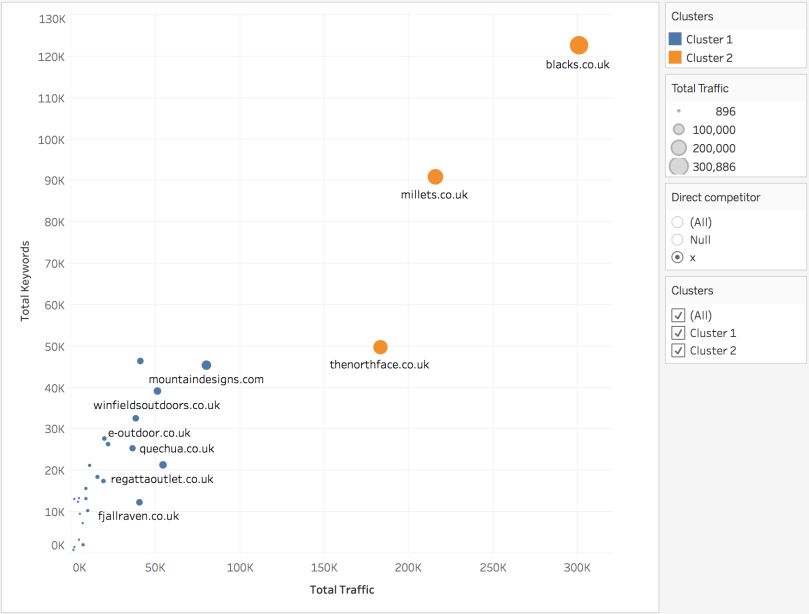 For me, it's a surprise to see that the GO Outdoors website is so prevalent in Google.
I will definitely have to check out what they are doing that's working so well.
Moving on!
Irrelevance is bliss
This is the point where we are tempted to come up with stupid questions/hypotheses:
how fast did they grow?
what's their domain authority?
how soon can I get that traffic? (it seems easy)
what platform are they using?
There are tools like SemRush, Ahrefs, SimilarWeb, SearchMetrics, BuiltWith, etc. that can answer some of these questions for us.
But you have to wonder if it makes sense to ask them. Is there a way that information would help?
Regarding Website Authority, I have to say my piece: there's no such thing.
It is not a ranking signal as you can see in this announcement from Google.
And here's John Mueller on this subject:
Imagine what could happen if we put the time towards finding real strengths and weaknesses of each website! If we look carefully at each competitor for inspiration and for ideas on how to improve.
If instead of hitting refresh on Alexa or SimilarWeb every five minutes, we would go to opponent websites and dig in deeper into what they are doing.
Strengths vs. Weaknesses for competitors
Found a nice example of a SWOT analysis that could apply to Search Engine Optimization: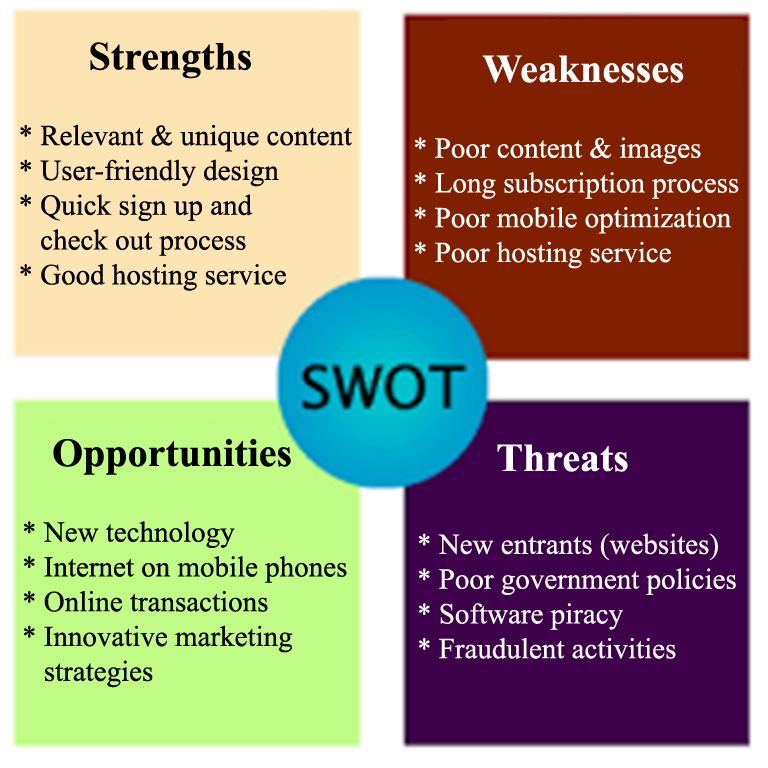 You don't need anything too fancy. Just a way to put them down on paper.
Then you can draw some conclusions and start focusing on the competitors' weaknesses.
What happens when I become number one?
First of all, congrats! If you've made it this far you deserve our respect.
And our advice is to keep moving. Go lateral. Find ways to put yourself out of business. Disrupt yourself.
Anything but sitting there and patting yourself on the back.
If the numbers tell you that you are on your way to becoming top dog, you have to start thinking about going into related niches.
Keywords
SEO's bread and butter
This is where most of us feel comfortable.
We are in our zone when we figure out a keyword we think it would make a difference.
We want to point out the following before we start:
Ranking first for a search term doesn't mean you are the best in your niche.
Volume is not everything! Search intent matters! Here's an article on STAT on how Google tries to read the searcher's mind.
The long tail conversation is very real! You see a keyword with a high search volume, and you think that is the holy grail.
The long-tail game
We've seen a lot of cases where people with high keyword rankings in their countries on something like "carpets" or "rugby" that think they've got it all.
Major mistake! Your competition is kicking your ass at long tail, and you don't even know it.
Our example
Here is a screenshot from Search Console for one of our articles on Canonicalized: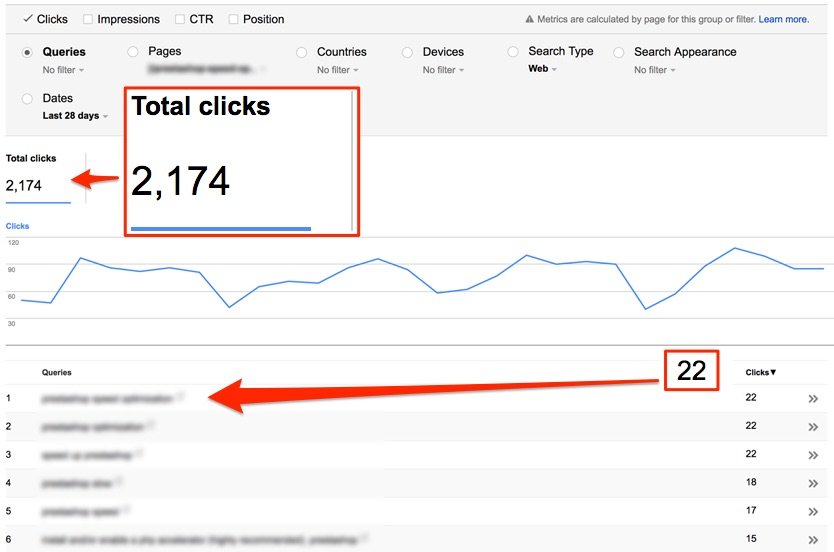 The primary keyword is getting 22 clicks. The article itself is bringing in 2174. That's 1% for the keyword with the high search volume.
Keywords clearly have their utility. But we should look at them from a guideline point of view, not as an end-goal.
The long tail should always be on our mind!
Tools for long-tail research:
You might have noticed we haven't said anything about how to find the hot keywords everyone is talking about.
We feel there are a lot of guides out there on keyword research and how to "steal" them from competitors.
So we are going to pass on writing about the subject for the moment.
Instead, we are going to focus on what matters from our point of view.
Everybody is looking at backlinks. Should I do that too?
"Anchor texts", "backlink profiles", "domain authority", "PageRank". Just a few of the SEO industry's terms that have become quite popular among a lot of people who wants to pose as knowledgeable.
For me, it's a total turnoff when I hear these words coming from a person I'm meeting for the first time.
So if we ever get a chance to meet (in person or virtually), please don't tell me I need something like that.
There are two general approaches to SEO: content or link building.
If the content is good enough, you won't need too many sites linking to you. Even in crowded industries.
It could happen that backlinks will help you rank faster. They might give you a push if they are coming from a relevant place. But, from where we're standing, they feel a bit overrated.
Of course, there will be a lot of studies that will tell you that "backlinks are still strong". After all, there's an entire industry built on top of that.
What they don't tell you is that they create those "studies" to get links and shares from people that read them.
And onward goes the disinformation …
Onpage vs off-page
Other experts recommend the "match on-page and beat off-page" approach. Another classic saying.
Beat off-page is easy to understand: get better links from more relevant sites.
But, what does "match on-page" mean? Sites are so different right now, from any point of view (platform, structure, content, etc.) that the expression doesn't make too much sense.
We think that the best thing for site owners right now is to look closer at the website and the user's experience.
Also, if your content is crap, it doesn't matter how many links you'll buy. You will get nowhere!
We say this: blow on-page out of the park!
Just to see what happens at least. Prove us wrong!
Quick example
Let's look at this quick example: woocommerce se optimization.
Above Yoast at number one. Tell me about domain authority again, please!
When we first published this guide it got indexed at number 4 in Google. With no backlinks.
"Yes, but it's a 30 searches a month keyword. I could do that in my sleep".
Then how come it brings in this kind of traffic every month?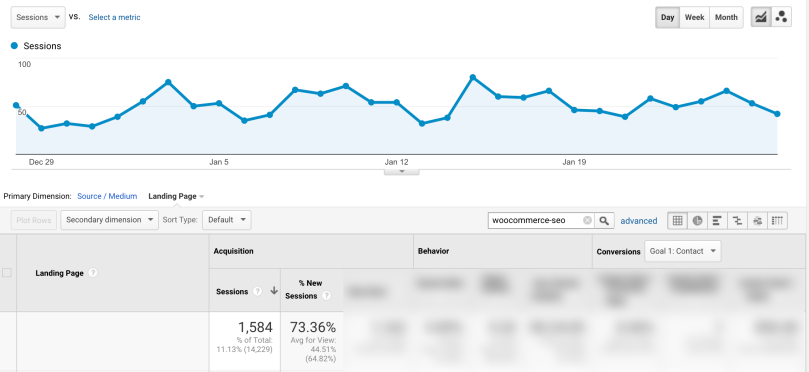 Which takes us back to the long-tail discussion. Think about it!
The SEO rambler comes to the rescue
Putting the top 10 results into SEO context
We've built a free tool to look at key indicators the top ranking websites. Optionally, we can compare them to an URL of our own.
That's how we roll!
We use it before we start attacking a group of keywords and during the optimization process to update according to Google's wishes.
Going back to our example on Woo SEO, here's the Rambler result: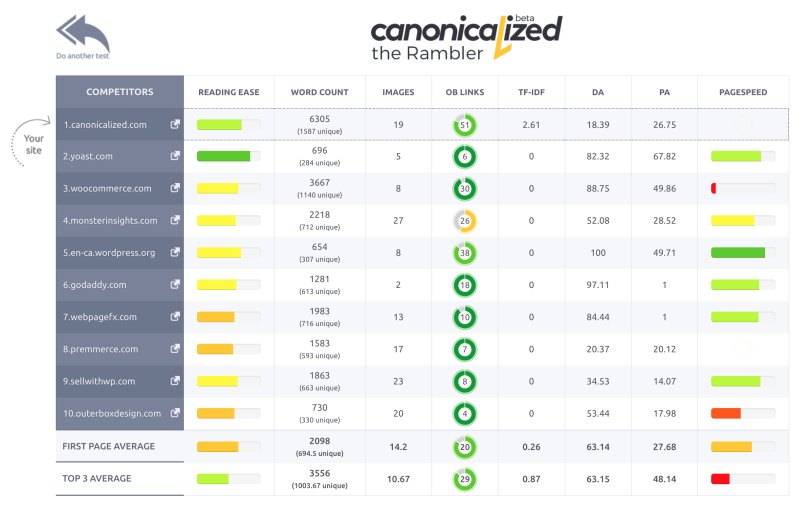 It's a reliable place to start the strengths vs. weaknesses competitive analysis.
We're looking at elements from within the page like:
reading ease
content size (word count)
images
number of links
TF-IDF
Also at external indicators like Moz DA & PA (yes, we caved and added these to the tool) and PageSpeed.
Give it a spin to see how it goes: SEO Rambler!
I went through the three steps. Now what?
Since we don't want to work without a purpose, we should instantly map the insights to our website.
Starting with the keywords: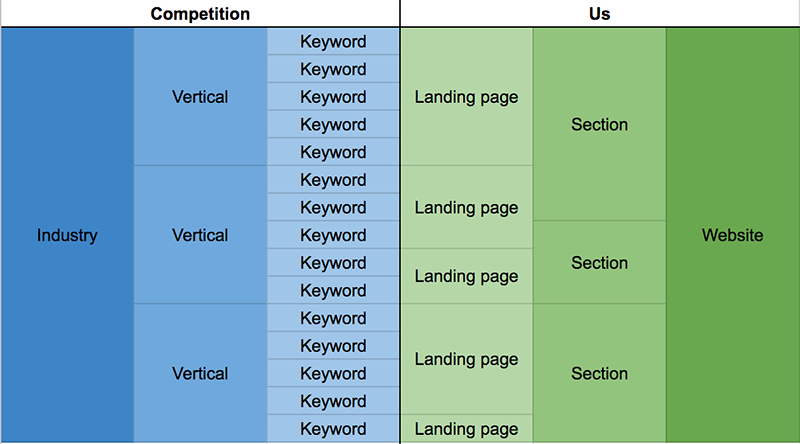 I can't help myself to fire up a data visualization with our list of keywords. We just need search volume to size them up.
We could use a variety of tools to get the search amounts. At the moment I kinda like the Keywords Everywhere tool which extracts the data from a lot of places.
Even though the data is not 100% accurate, it returns the data very fast. It's enough for me to get an idea of what's going on.
The keywords are packed into landing pages. For more extensive websites, it might be useful to group them into sections as well.
So here's a random example for you to interact with (it's built with D3):
You can easily build this on your own using rawgraphs. A free service to produce ultra-cool vizzes with no code.
Thanks to Little Miss Data for pointing it out!
We could also use a Treemap for to look at keywords per landing pages. Here's one we built with Tableau using the same example data as above:
After we've mapped the keywords to our content, it time to look at the competition's features.
Stealing the most sought after features
The best way to do anything is the visual way! Or at least that's how I feel.
But to get to the visual, we have to do the manual work. Again.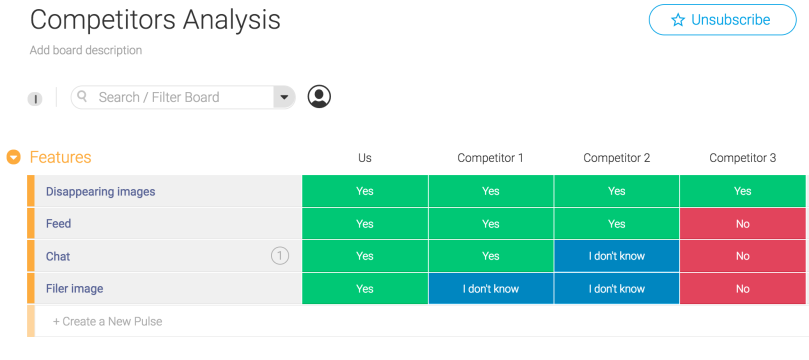 We like using Monday.com for this type of analysis, but you can easily do it in a spreadsheet.
The colors give it a bit of life, don't you think?
Aside from the design of the report, it brings value because we will not be implementing stuff in the dark. We will try something that has seemed to work for others before us.
[Idea] It might be a neat way to prioritize your steps through an ICE analysis for SEO features.
You can read more about the ICE methodology here.
Store/plan ideas
We could store our feature ideas into a spreadsheet or Monday.com.
But we could also try using a service like Trello to group our ideas into sections.
Trello is well-known for it's Kanban possibilities, but we like to use it more as a classifying tool.
Here's an example:
lists for each section of the website
cards for each landing page of the section
checklists with tasks for each of the landing pages
Or for an e-commerce website:
lists for each type of page (product/category/homepage/etc.)
cards for every SEO idea
documentation and checklists for every idea

There are a lot more board ideas on the official website.
To put it frankly, it doesn't matter what tool you use as long as you get to your answer as fast as possible.
Conclusion
You can see that our way to a competitive SEO analysis requires a bit more work than others that you might find online.
We are not saying some are good and others aren't. That's up to you to decide!
What's important is that we build up a clear image of who are our real competitors and what they are good at.
And this is only the beginning!
Now comes the tough part: putting the knowledge into action.
If you need help or if you are in the mood to talk, hit us up in the comments!