Short story
We are always working our ass off to provide the best on-page SEO recommendations for every e-commerce website we get our hands on.
We are also trying to find the right combination of time, cost, and performance.
Most of the time we have manage to neglect the "SEO wonder" / "SEO amazing" type of plugins.
Why? Because most often their claims are overstated. Also, a lot of them are tending to go into the gray area of SEO.
Then how come we are writing this article? Because it's not the case with the Advanced SEO Suite.
It was love at first sight. From the moment we set eyes on this extension by Mirasvit, we knew we struck gold!
This article is not meant as a promotional tool for the module,
it is a way to help you save money and relieve stress.
Killer features
There is a "SEO Templates" section to use for categories, products and layered navigation filters.
You can create auto text patterns for the following:
meta titles
meta description
meta keywords (this is useless)
H1 tags
SEO Description: a text block added to the bottom of the page
There is an excellent list of variables to use in your templates. Such as category names, URLs, category parents, product names, product brands, every product attribute and even the active filters.
Read more about variables in the documentation section below.
Redirections
you can manage the following manual redirects from within the Magento SEO extension

301 (Permanent)
302 or 307 (Temporary)

there is an option to redirect only if the page is 404

you can use wildcards: useful when moving a full directory

e.g.: yoursite.com/old-cat/* redirects every page with this base URL (yoursite.com/old-cat/anything)
it's usually a good idea to use wildcards because most pages could be indexed with URL parameters (UTM tags, pagination, filters, sorting, etc.)
use with caution because you don't want to end up redirecting useful pages

importing redirects from .csv files

Robots.txt editor
It's great that you can edit the robots.txt file from the admin area.
There are no major universal rules for it, except these:
block access to search results pages, comparing URLs, wish-lists, etc.
allow search engines to index every JS, CSS and image file used on your front-end
You can expand the file further, depending on your settings.
Here is a setup for Magento 1.9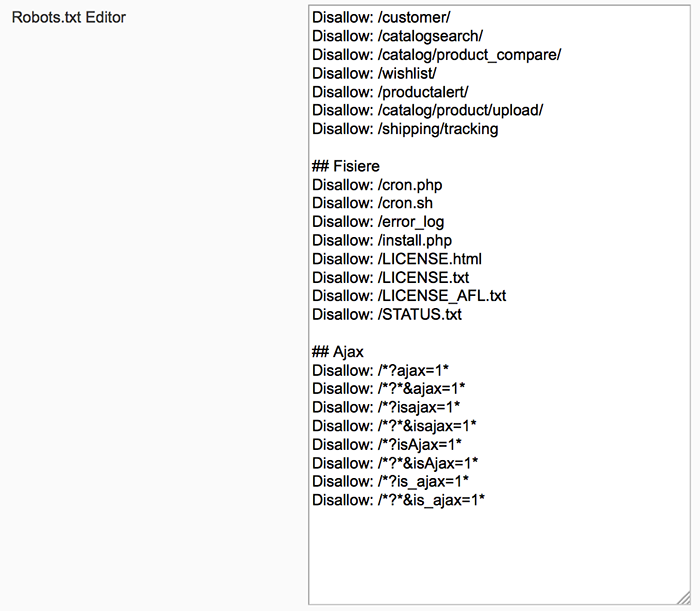 Schema.org and OpenGraph
Schema.org is a way of formatting website content to make it easier to understand for search engines. The standard is recognized and used by the three top search engines: Google, Yahoo and Bing.
Product Rich Snippets

the features diversity is good, better than most extensions are offering

it includes a few GoodRelations tags for payment and delivery (there are not a lot of websites using this e-commerce standard)
here is a screenshot of how the product tags are picked up by Google


Category Rich Snippets: it offers the option to aggregate reviews on the category listing. Unfortunately Google doesn't allow rating stars on listing pages anymore, so this is quite useless.
Organization snippets: very useful for stores with a physical address
OpenGraph meta tags are useful for social media networks to pick up useful information from your product page.
The SEO settings section is probably the most complex one of the module.
We don't have time to waste so let's break it down!
Canonical section
You undeniably want to use rel canonical. There are some "experts" out there saying that the usage of rel canonical should depend on your strategy.
If so, then every game plan should include rel canonical. Especially on eCommerce platforms
It's important to keep in mind that not all types of pages are suited to have rel canonical.
For example, paginated listings:
it is recommended not to index your categories' secondary pages

you can accomplish this by using the following tag <meta name="robots" content="noindex, follow" />
in effect, you are telling search engines to follow every link on the page, but to not keep them indexed
Why wouldn't I want more pages indexed in Google?
Merely because they can't ever be considered high quality.
Google's quality updates (especially Panda) are targeting all sorts of low-quality listings.
So, if I can't keep them indexed, why am I not allowed to use rel canonical?
Using both noindex and rel canonical is sending mixed signals to Google. You could end up with both pages out of the search engine's index.
You surely don't want that!
Using Advanced SEO Suite to avoid mixing signals
It's simple! Just add "noindex, follow" for low-quality pages using URLs or URL patterns.
After doing this, just copy the same patterns and place them one per line in the canonical ignore text area.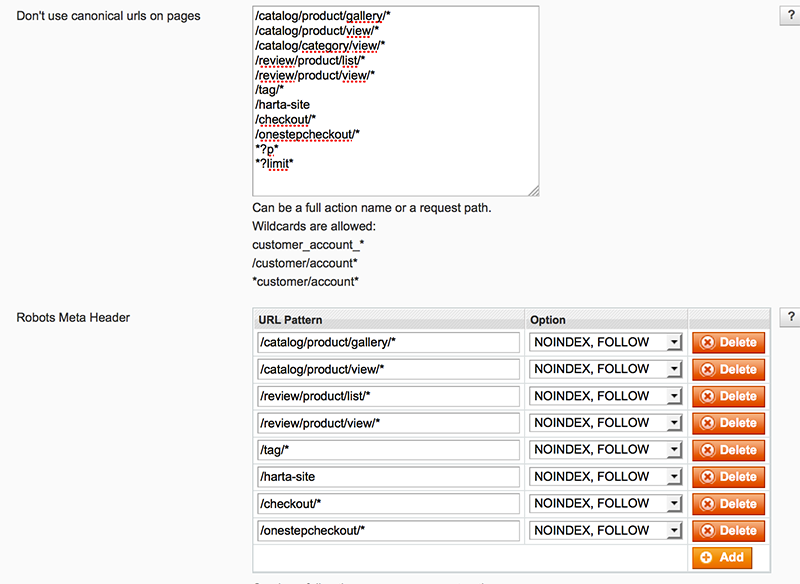 The importance of canonicalization on Magento
For Magento, the canonical tag is essential on the product page.
A lot of sites are generating the URL dynamically, using the category path.
Let's take a look at this example:
User 1 is navigating through Category A, Subcategory B and then the product page

the common "Magento way" will generate this URL yoursite.com/category-a/subcategory-b/product-page.html

User 2 is on your homepage and clicks on the same product

the current URL will be yoursite.com/product-page.html

so, you will have two pages with 99% duplicate content

another way to avoid this issue is to use a unique URL on the product page, disregarding the visitor's journey

you can do this with from within the extension, lower down the page, on the "SEO-friendly URLs Settings" section
Canonical tags are crucial for sites using layered navigation. By indexing every combination of filters, your site could run into major issues.
Ever seen this message in your Webmaster Tools account? Then it's time to do some cleaning on your store.

Also useful features
Rewrites

based on URL patterns, it allows you to custom meta tags and the SEO description (the one from the bottom)
to be used on cms pages, or listings that can't be reached through the SEO templates

Sitemaps

there is a frontend HTML sitemap page
XML sitemap: we are not huge fans of this kind of sitemaps

we believe that the best indexing is the non-forced one; every site should be processed naturally by search engines
we have found that XML sitemaps for videos work great; Google still has issues with recognizing this type of content in a fast way

small, but powerful settings:

rel alternate tags: required on multiple-language stores
including page numbers in the meta fields
product image templates for URLs and ALT texts
SEO friendly URLs for Layered Navigation
What to watch out for
blocking access to relevant pages

it could easily happen if you are not paying close attention to wildcards
make sure to use a tool like ScreamingFrog or OnPage.org to crawl your website to check for any issues

Auto Links for certain words

we don't like this section of the module because it's going into the gray hat of SEO
internal linking is best done naturally and using different keywords as anchor text every time
it could work for you, but our guess is that Google will penalize this practice in the near future (using the same anchor text over and over again within your site does not look natural to us, and it will not look natural to Google)

rel canonical loops or chains

pointing rel canonical to a page that already has rel canonical pointed to a different page (page a -> page b -> page c)

pointing rel canonical to pages that are using noindex
Documentation
The module is very well documented.
The user manual takes you through every step of the configuration and then some more.
We especially like how every variable available for meta fields/content is listed with an explanation.
Excellent docs functions:
a fast built-in search
one page or tree view of the contents
PDF version available for download
You can't honestly ask for more!
What it lacks
even more flexibility for rel canonical (we like to get deep!)

creating rules using the product count
rules for filters (e.g.: different canonical for brand filters, price, colors, etc.)

noindex for listings with a low product count
default breadcrumbs on product pages (similar issue with product URLs)
configurable breadcrumbs on the product page (including an attribute such as the brand in the breadcrumbs will be useful)
Maybe the Mirasvit team will read the article and include these features in the module 🙂
Costs
$149 for a Community Edition installation
$248 for the Enterprise edition
an additional $49 if you would like the people from Mirasvit to install the module for you

there is a version developed for Magento 2, which they help you set up for free (we guess that this will become a paid extra service as soon as Magento 2 and Advanced SEO Suite become more stable)
The promised savings
On-page SEO is a back and forth process no matter what.
There is a lot of time invested into explaining the tasks to the developers, into checking implementations and giving feedback and so on.
We have been watching this thread on Quora, and all we want to say is this: Using cheap developers is a risky game.
From our experience, they somehow always end up messing something up. Like using "nofollow" instead of "follow" in the robots tag or no-indexing meaningful pages, etc.
And this is just the beginning!
Magento development isn't anything like Woocommerce or Prestashop.
It's an entirely different ball game concerning both costs and knowledge.
We also found that good developers that can accurately implement these demands have rates of at least 30 – 40$ per hour.
From our estimations, this module shaves up to 30 or 40 working hours from the developer's time. It also avoids a lot useful, but consuming email traffic.
The real cost of key on-site Magento SEO development will range between $900 and $1600.
This if you can find a good developer at a fair price.
Without the cost of the module, you will end up saving around $750 and $1450. Maybe even more!
What is the best part of it?
[Tweet "No more time-consuming emails between SEO guys, project managers, and developers."]
Highly passionate about data, analysis, visualization, and everything that helps people make informed decisions.
I love what I do! I am working to improve speed in every aspect of my life and that of our clients.
I find comfort in helping people, so if you have a question, give me a shout!